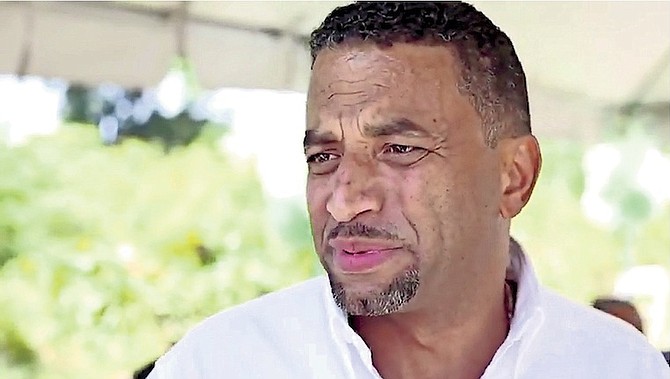 By Natario McKenzie
Tribune Business Reporter
nmckenzie@tribunemedia.net
THE DNA's former leader yesterday urged the government to "be bold" and target medical marijuana and a national lottery as industries that can deliver a $1bn economic boost. 
Branville McCartney, looking ahead to next week's 2019-2020 budget, told Tribune Business that as a businessman he hopes one of the issues the government will address is the way business licence fees are levied.  
Warning that "we're still in a recession", he said: "I would certainly like to see from a business point of view where they look at the business licence fees, in particular, and make it fair and just in the sense that instead of taxing you on your gross, you are taxed on your profit.
"Alternatively they could set certain parameters for small, medium and large businesses. There could be fixed rates that are reasonable. It would also be good to show that we don't need value-added tax (VAT), which is a killer to business.
"I would really like to see the government introduce some initiatives where the country can make money, and that would eliminate ultimately VAT. We need to see the government introduce some initiatives that are going to help the average man on the street. People need to be able to survive, and the cost of living in this country has to go down. I would like to see this government be bold and introduce some bold initiatives."
Mr McCartney again pointed to the medical marijuana industry as one this nation could tap into, as well as the introduction of a national lottery. "Together, those two initiatives could bring close to $1bn a year for this country," he told Tribune Business. "That can be the start towards eliminating VAT. I think the government ought to look seriously again at different industries so that VAT can be eliminated.
"We also need to look to alternative forms of energy. The cost of energy in this country is far too high. These are the aggressive type of initiatives that I would like to see this government move forward with so, at the end of the day, significant change is brought to the Bahamian people.
"This country is not growing anywhere near the rate it needs to be growing. We are still in a recession. We have to take the politics out of governance and do what's in the best interest of this country; in the best interest of the Bahamian people."