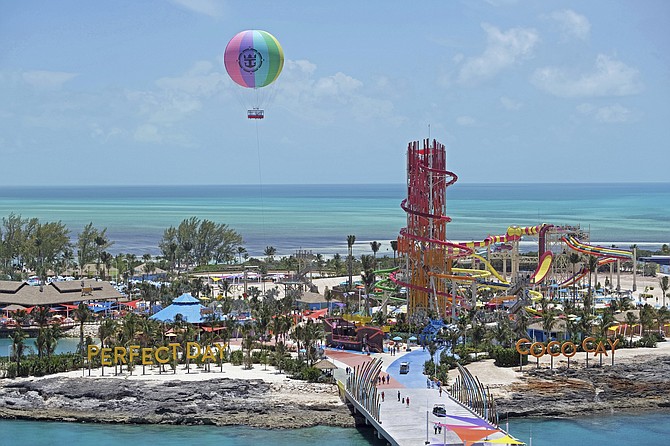 By Ricardo Wells
Tribune Staff Reporter
rwells@tribunemedia.net
AN enhanced Grand Lucayan with Royal Caribbean International at the helm would spur a "huge economic impact" on Grand Bahama and should reinvigorate the country's entire tourism sector, according to the cruise line's president and CEO Michael Bayley.
His comments came on the sidelines of the ceremonial opening of RCI's new top-rated island destination in the Berry Islands, Perfect Day at CocoCay, telling members of the press his company was positioning itself to spearhead a multi-million dollar, multi-phased project on par with CocoCay in Freeport if negotiations with the government are successful.
Highlighting RCI's ongoing efforts in the Bahamas, Mr Bayley suggested the cruise line's current $300m per annum economic impact in the Bahamas could drastically increase over time.
"Our calculation on the economic impact of Royal Caribbean's activity in the Bahamas is around $300m per year. I think with Freeport, I don't know what the number is, but it is going to be hugely significant," he said. "Just the fact that we are going to redevelop those hotels and beach, that whole area, it is going to be in the hundreds and hundreds of millions of dollars. The amount of work that will be underway to regenerate that destination, it is going to be a few years, hundreds of millions of dollars, massive project work, and I think the economic impact is going to huge."
Mr Bayley added: "I am not an economist, I am a businessman, but you can't help think that the economic impact isn't going to be fantastic."
RCI signed a letter of intent to purchase the Grand Lucayan resort property from the government for $65m back in March.
Included in that deal is proposed initial investment of $135m for the first phase of RCI's proposed redevelopment of the site.
RCI has said its project will take place over a 24-month period and estimates that some 2,000 jobs would be created in the first phase.
At the signing, held at the Office of the Prime Minister in Grand Bahama, State Minister for Grand Bahama Kwasi Thompson said the joint venture between RCI and its investment partner, the ITM Group, will not only combine the redevelopment of the Freeport Harbour as a cruise port of choice but will also transform the Grand Lucayan resort into a theme park, featuring water-based family entertainment, with dining, gaming and entertainment options and five-star hotel accommodations.
Addressing those plans on Friday, Mr Bayley said his team has gone to great lengths to illustrate to the government of the Bahamas RCI's "qualities and capabilities" relative to creating a "super destination."
Mr Bayley said RCI was hoping to bring the same creativity, intelligence and guest-centric experience displayed at CocoCay, to a new Grand Lucayan; insisting that executives are aiming to make the property "second to none."
"And I think that is really what Royal Caribbean is pretty good at…delivering great vacations and making sure the guest have a great day," he told reporters. "And I think we are going to apply all of that design and all of our understanding and knowledge to creating an experience in Freeport that makes people say, I want to go [there]."
"What you see [at CocoCay] that's what we are capable of creating. What you see over there with the largest ship in the world, is what we are capable of creating. We will bring the same intelligence, creativity and design to the Freeport project," he said.
However, Mr Bayley did note RCI's full project specs could not be revealed publicly until a finished deal is worked out between the two sides. He asserted while there is clear excitement on the part of both parties, given the success of CocoCay, he said there are still negotiations to be concluded.
Mr Bayley said the two sides had another 30 to 40 days of discussions remaining.
Of this, he said: "This is a big project with a significant investment. We have shareholders as well, as well as our engagement with the community, and we want to make sure when we finalise the proposal, it works for everybody. We want it to work for the community, we want to work for our guest, we want to work the Bahamas, we want to make it work for Freeport; there is a lot to consider and we are being very thoughtful with it."
When asked if the potential Grand Bahama project would receive the same level of attention and focus as CocoCay did, Mr Bayley said yes.
"[Freeport] will be just as important [as CocoCay]," he said. 
"I think that we've said that the Bahamas is our number one destination. I think if you look at the growth of the cruise industry and tourism overall, [the Bahamas] has got the best location in the world. It is great. So we see Nassau, opportunities in Nassau. We hope that the Global Ports Development will go well and that we will participate in creating a more desirable destination. And it is the same for Freeport. You know, these are great… all of these destinations have wonderful potential. Our job, which you see here, is to bring that potential to life," he said.
Mr Bayley added: "And I think that we see that in our guests reaction to a Perfect Day at CocoCay is, you did it, you got it right, we are real super happy. That is what we are being told by all of guest, this is the highest rated destination, and that is what we want Freeport to be."
Both Prime Minister Dr Hubert Minnis and Tourism Minister Dionisio D'Aguilar were on hand Friday at CocoCay's ceremonial opening, with both men taking time to talk up the potential of RCI in Grand Bahama.
For his part, Dr Minnis referred to RCI's work in Grand Bahama as a "major project," and he suggested the two sides had committed to seeing the project "come to fruition."
As for Mr D'Aguilar, he insisted that talks were "progressing" at a steady pace, promising a full and accurate address after those talks are completed.
The Grand Lucayan's tender process attracted some 62 expressions of interest from local and global firms.
That list was shortlisted to 11 on February 14, and subsequently, on March 22, RCL was unanimously approved for recommendation to Cabinet.