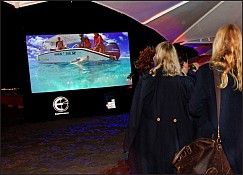 Exuma and its swimming pigs were spotlighted at last weekend's Cannes Film Festival through a beach party title sponsored by Grand Isle Resort & Spa.
Held in collaboration with the Fort Lauderdale Film Festival, the event attracted more than 650 VIPs as part of the promotional drive for the release of a new full-length film on the pigs. Pigs of Paradise, a movie directed by Charlie Smith, of Earthbeat Films, is based on the book by TR Todd.
"This was indeed a special night to be featured in Cannes and rare opportunity for all of Exuma," said Peter Nicholson, president and founder of GIV Bahamas, and the largest owner at Grand isle Resort.
"We are very thankful to our partners and sponsors, especially the Fort Lauderdale Film Festival, Steven Savor and Gregory von Hausch. It was a fairytale kind of night for these swimming pigs, which have done so much to open people's eyes to the amazing beauty of Exuma."
"The Fort Lauderdale International Film Festival's Annual Cannes Soiree was the biggest ever," said Von Mr Hausch, the festival's executive director.
Guests watched a special preview of Pigs of Paradise on a big screen. VIPs walked away with bags containing exclusive gifts and offers at Grand Isle Resort, as well as copies of the book Pigs of Paradise, with the author, TR Todd, on hand for a book signing.
The event was made possible by supporters including Steven Savor, a well-known philanthropist in Fort Lauderdale; Claudette Pagano of One Exuma; Laurie Gordon of the Montreal Animaze Fest; Martin Petrov of World of Film International Festival of Glasgow, Scotland; Chateau Minuty of Gassin, France; Constantine Champagne, of Paris; and Nicola Torregrossa of the International OnLine Fest and Daniele Occhipinti of GOTO, both of Palermo, Sicily.
These partners were joined by sponsors from Exuma, including Grand Isle Resort and 23 North Beach Club. Other sponsors included The Milo Group; Staniel Cay Yacht Club; Makers Air; Peace and Plenty Hotel and Beach Club; Lumina Point Resort; Impulse Yacht; Chateau Minuty Estate Wines; and Philautia.
"I have enjoyed and sponsored the soirée over the years, but this one was made particularly special by our partnerships," said Mr Savor, who is also the executive board member of Fort Lauderdale Film Festival. "We wish Pigs of Paradise much success and look forward to visiting Grand Isle and the Exumas this summer."
Mr Nicholson, who is also the executive producer of the film, continues to hold discussions with distributors seeking distribution of the new movie in North America, Europe and beyond.