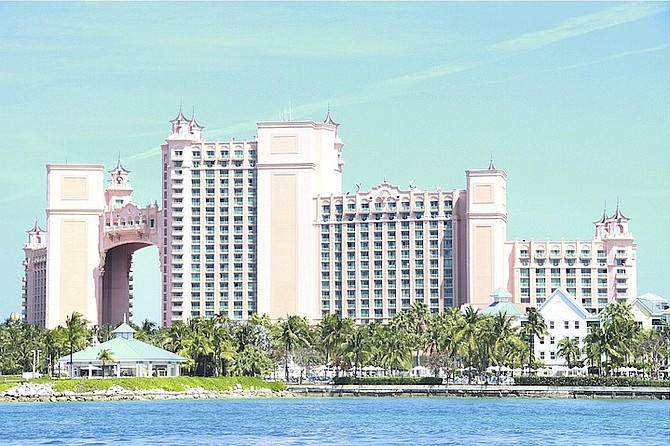 By Neil Hartnell
and Natario McKenzie
Tribune Business Staff
The hotel union will take a strike vote this Thursday after slamming the industry's proposal to eliminate the automatic 15 percent gratuity and other worker benefits as "a slap in the face".
Sheila Burrows, the Bahamas Hotel, Catering & Allied Workers Union's (BHCAWU) general secretary, told Tribune Business that the recent offer by resort employers threatened to take the union's 4,000-5,000 membership "back 60 years".
Speaking after union members burnt copies of the industry's proposal during a heated meeting at Workers House on Thursday night, she said: "We got a proposal from them but there was nothing in it. We had actually submitted three proposals to them, one under the former president, Ms Martin, and two under Mr [Darren] Woods.
"We recently went to the Labour Department and because of that they sent us a proposal. I think they just sent it to say that they sent us something."
The most controversial proposals in the offer from the Bahamas Hotel and Restaurant Employers Association (BHREA), the employers bargaining group that negotiates industry-wide industrial agreements, are elimination of the automatic 15 percent gratuity and delaying the payment of Christmas bonuses until the second week of January.
In addition, the Christmas bonus will be tied to the hotel's performance, and not guaranteed. Nor will the traditional provision of Christmas ham and turkey by resorts for their staff be guaranteed, as Ms Burrows accused the industry of "taking away all the benefits" previously obtained for workers by the union.
"They want to take away the 15 percent gratuity. They want to change the terms and conditions of an employee," she blasted. "If you had a matter in court years ago they want to have the right to dig that up and decide if they are going to terminate you.
"The Christmas bonus issue is a very contentious one. We know that the people in the hotel get their bonuses for Christmas; the second payday in December. What they propose is that they want the Christmas bonuses to be given the second pay week in January. The proposal doesn't say that you shall receive it; it says you may receive it if the resort meets its quota.
"They are being blatantly disrespectful. Regarding the ham and turkey, they say they may give a $50 voucher. They are trying to take away all the benefits the hotel union has negotiated. What are they trying to do to the people? They are trying to do all sorts of things to stop us from sitting down at the negotiating table. We want to sit down at the table and negotiate for our members and we also want a registered agreement," Ms Burrows added.
"We had a meeting with our membership and they told us to burn the proposal. The proposal was a slap in the face. They don't want to give a one per cent pay increase but they want to take away the 15 per cent gratuity from the workers. Hotel workers haven't had a pay increase since 2012.
"The workers are the ones who make the senior management at these resorts look good; they make the hotel look good, they take care of the guests. We are at the point where the membership is fed up. The union is going to ensure that their rights are not infringed upon. The proposal by the BHREA leaves a lot to be desired.
"It's not right; it takes us back 60 years. We are not playing with them. If they want a war we will give them one. We have a strike vote set for Thursday and we have invited all of our membership to vote 'yes'. The membership asked us to burn the proposal and we did. We want to sit down and negotiate. We want a registered agreement."
Thursday's vote, and the possibility of subsequent industrial action, points to a sharply deteriorating industrial relations climate in The Bahamas that is now threatening to spread from the public sector into the private sector following last week's sick-outs at the National Insurance Board (NIB) and recent strike certificates issued at the Water & Sewerage Corporation.
Any disruption in the hotel industry will be especially unwelcome, given that it represents the largest sector and mainstay of the Bahamian economy - and is the largest private sector employer. The only consolation is that should strike action occur it will take place after the peak winter season, yet it would still potentially threaten the year-over-year increases projected for the rest of 2019.
All performance indicators for major Nassau/Paradise Island hotels increased by double digit amounts every month in the 2019 first quarter, with room revenues ending the period up 37 percent. And Dionisio D'Aguilar, minister of tourism and aviation, has said Bahamian tourism is "firing on all cylinders" with forward stopover bookings for the April to June period some nine percent ahead of 2018 comparatives.
Neither Mr D'Aguilar nor Dion Foulkes, minister of labour, responded to Tribune Business phone calls and messages seeking comment before press time last night. Mr D'Aguilar said he would call back but never did.
And Russell Miller, president of the employers' negotiating body, the BHREA, in an e-mailed response to Tribune Business inquiries said simply: "There is a process for negotiations with the bargaining unit, and we intend to fully adhere to that process."
Some observers will likely argue that the union is over-reacting, given that talks over a new industrial agreement are just beginning, but it appears that the BHREA and its members feel they have the upper hand and are now exerting the leverage that was granted to them by the hotel union's mistake in late 2012.
The last industrial agreement between the two sides expired back in 2013, and its terms are being treated as if it is still in effect. This resulted from the union missing the October 8, 2012, deadline by which it had to submit its proposal for a new industrial agreement - as it was required to do by the conditions set out in the old deal.  
With hotel union members enduring VAT's introduction and subsequent increase, and cost of living rises, without a wage increase since 2012, pressure on the BHCAWU leadership to deliver a new industrial agreement has steadily increased. Mr Woods, current president, and his leadership team said securing such a deal was their top priority when they took office a year ago.
Employers may also have been emboldened by the 2015 Supreme Court ruling that found the Meliá Nassau Beach Resort was not obligated to pay staff a 15 percent gratuity for serving all-inclusive guests. The resort had wanted to cut it to 8 percent.
Apart from the Melia, the resorts that are members of the employer bargaining unit are Atlantis, Ocean Club, Harborside, the British Colonial Hilton, Lyford Cay Club and Towne Hotel. Significantly, Sandals Royal Bahamian, SuperClubs Breezes and Baha Mar are not included.
While there is a belief that an automatic 15 percent gratuity has undermined hotel industry service standards, it nevertheless represents the majority of tipped employees' incomes as they only receive a relatively small basic salary.
Atlantis, in a message to its 8,000-plus staff, called for cooler heads to prevail by urging members "to remain focused, dispel rumours and manage emotions" while focusing on delivering "on our promise to create lifelong memories for all our guests".
Recognising the rising industrial relations temperature, Atlantis did its best to calm passions in a note seen by Tribune Business: "Negotiations for a new bargaining agreement are about to begin with the Bahamas Hotel, Catering and Allied Workers Union," it said.
"The Bahamas Hotel Employers Association will be negotiating on our behalf and other member hotels. As in previous negotiations, we have acted in good faith and the company will continue to do so in the best interest of all our colleagues."
Atlantis added: "During the upcoming months updates will be provided to you. It is important to remain focused, dispel rumours and manage emotions while our resort continues to collaborate with the union on your behalf.
"The negotiations are an important part of our journey towards continuing to strengthen the Atlantis brand, which is our ultimate commitment to you, our colleagues, our customers and shareholders.
"Our leadership team is dedicated to working as hard as we can to negotiate an agreement that benefits all key stakeholders."
However, "managing emotions" was not on the agenda at the hotel union's Workers House meeting on Thursday night when the employers' proposal was burned. A social media clip seen by Tribune Business appears to show Mr Woods encouraging members to "burn that proposal", repeating this three times.
The phrases "burn that up" and "it is garbage" were heard several times, with one union member shouting: "This is 2019. We will win this war. We will win this war."
Another social media video, seemingly showing Atlantis staff, promised that the union and its members are "coming out strong" for the vote on Thursday. They warn that the employers' proposal, if it ever comes into being, will have a knock-on effect throughout the Bahamian economy with hotel staff unable to service loans and other obligations or pay for groceries.
"We see this fight; it's not about us. It's about what we're leaving for our children," one worker said. They described industry workers as "the backbone of the country", and warned that "without us this country can't run" and provide the necessary experiences for visitors.