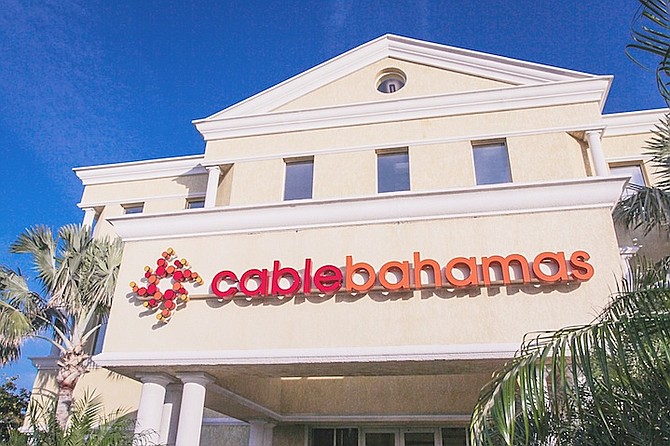 Richard Coulson's Business Bites
In its quarterly financial report through March 31, 2019, Cable Bahamas for the first time has added management comments to the usual bare-bones figures —a practice that should become standard for all BISX-listed companies.
When businessman Franklyn Butler, of the family-owned Milo Butler wholesale empire, became CEO of Cable late last year, he saw the company was losing the confidence of its shareholder base, as the quoted share price on BISX steadily declined more than 30 percent to a fraction over $2.00 and no dividends were being paid. He decided the company's complex corporate structure and rapid asset expansion needed greater transparency to convince its owners that it was being run for long-term profitability
The raw quarterly numbers showed a net loss of $11.3 million, scarcely less than the $12.7 million loss in the previous year. To put this in perspective, Mr Butler attached an up-beat commentary headed "Cable Bahamas Group Announces Strong Financial Performance." He pointed out group revenue for the nine month period increased by 14 percent to $188 million. A clear chart was provided showing the breakdown of revenue and EBITDA between the group's three operating segments: REV, ALIV, and Summit Broadband (in Florida). Each of these units has been contributing to Group performance, with REV, the largest, earning $92.5 million year to date from its "triple play" TV, internet, and fixed-line telephone services
ALIV, which launched its mobile telephones only in late 2016, had to break an existing monopoly to show growth in every quarter. Like every mobile cellular start-up, it incurred substantial initial costs that can impact EBITDA and net income for as long as five years. "Simply put, this is normal," in Mr. Butler's words. He expects ALIV will actually achieve positive EBITDA within the next six months, only three years after its launch.
With REV already profitable and Summit due to record stronger EBIDA positive figures, it seems likely the group will "turn the corner" into net profitability during next fiscal year beginning July 1, 2019. While Mr Butler quite rightly refrained from any predictions about resuming dividends, the easing of capital demands on the part of ALIV should free up cash that can be distributed to shareholders beginning sometime in 2020.
Mr Butler plans to continue the provision of up-to-date financial information and commentary. It will be welcome news to shareholders that unaudited figures for this year's fourth quarter ending June 30 are targeted for release within two months, rather than waiting for the much later publication of the full statutory annual report with auditor's review.
These improved standards of reporting and explaining Cable's financial picture should arouse our stodgy pension funds and their advisers to make more sophisticated analysis of the company' s future. Rather than simply watch the share price decline in the face of negative GAAP income, it is surprising they have not been actively buying at today's low prices in the strong probability of rises in the near future as start-up losses from ALIV and Summit are eventually wiped out. That is certainly what would have happened in the US, where Amazon took years to reach GAAP profitability while its investors enjoyed steadily rising cash flow and capital gains.
The next couple of years will see a major structural change in Cable Bahamas when government decides to unload its 51.75 percent stake in ALIV by making a public offering of its shares, in a sale that should reap well over $70 million for the Public Treasury. The word from Attorney General Bethel last year suggested this will happen as soon as ALIV can meet the earnings and disclosure requirements for a public company set by of our Securities Commission. In any event, it will result in a new equity security being listed on BISX. Even if the present ALIV management agreement with Cable Bahamas is terminated, Cable will enjoy a jump in its net worth reflected by the market price of its 48.25 percent equity holding in ALIV.
It will be interesting to see how these ALIV shares will be priced and distributed, and how ALIV will then progress as an independent concern. In any event, the consequences should be beneficial for the shareholders of both Cable and ALIV, and for the growth of our capital markets.
BISX sets a puzzle with some high-tech jargon
Keith Davies, CEO of The Bahamas International Securities Exchange (BISX), has announced creation of a new digital securities exchange, to be owned by BISX but to use its own separate platform that will become "the world's leading regulated exchange for primary issuances and secondary trading of regulated digital instruments…where private companies will be able to list their security tokens for regulatory compliant trading."
What this does hi-tech jargon mean in everyday financial terms ? What are "digital instruments?" Or "security tokens?" Are these anything like the garden variety stocks and bonds known to all mortal investors?
Not to worry. The new systems will be created and handled by BISX's selected partner named BRX Holdings, described as a financial technology firm planning to operate in The Bahamas under a technology licencing agreement, and founded by executives "with deep roots in quantitative investing, trading and issuance of traditional and digital securities".
However, our Google search did not reveal any "BRX Holdings" as a firm with named executives demonstrating this rare level of expertise. We wonder why BISX does not disclose this essential background information, which would surely give confidence to followers of BISX activities. As the new arrangement has been fully discussed with the Bahamas Securities Commission while awaiting final approval, doubtless that body will resolve the puzzle.
In our view, BISX might better focus on more mundane efforts like projecting itself at the recent Financial Literacy Fair sponsored by our Central Bank at Fusion Interplex. While our six commercial banks all made attractive presentations of their banking products, the absence of BISX and its broker-dealer members was notable. Solid financial firms like RF Holdings (formerly Royal Fidelity), CFAL, Leno Securities and the newly-launched Investar were not present to promote the many corporate shares, government bonds and multi-product mutual funds they offer to Bahamians. Lacking a vigorous spokesman similar to the American SIMFA (Securities Industry and Financial Markets Association), Bahamian investors are starved of centralized, easily available information about the potential of our capital markets.
And a PS...
PLP Leader Brave Davis as quoted in The Tribune on May 20:
"Mr. Davis said the FNM has abandoned the 'well-considered plans' for modernisation of The Bahamas left in place by the last PLP administration."
Those must be the plans hatched by PLP Cabinet members while being entertained with Peter Nygard's hospitality on his Cay overlooking Clifton Bay.