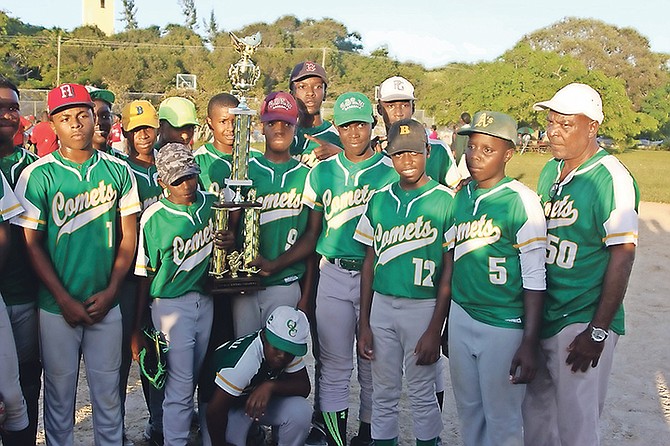 By RENALDO DORSETT
Tribune Sports Reporter
rdorsett@tribunemedia.net
One new champion was crowned in the junior boys' division while the senior girls' series was extended to a third and deciding game in the BAISS softball final.
The Queen's College Comets got the advantage in the latest edition of their rivalry with the St Augustine's College Big Red Machine and claimed the 2019 title with a 10-7 win yesterday at the SAC campus.
SAC took a 4-2 lead into the fourth inning before QC plated Durwain Stuart and Kenny Moxey to tie the game at four.
After a scoreless fifth, Kameron Smith's double scored Rohan Culmer and Neguyen Culmer to put the Comets ahead for good.
The Comets tacked on an additional four runs to take a 10-4 lead into the bottom of the sixth.
The Big Red Machine rally fell short in the sixth when Andrew Arthur popped up with runners in scoring position.
"We had no doubts all season long that we had the best team in the division, both offensively and defensively," said Comets head coach Julian Kemp. "I'd like to thank God for giving these boys the talent and the work ethic to continue on all season. This was our only loss of the year against St Augustine's so it means a lot to us."
Comets pitcher Mustafa Strachan said that after the team suffered a loss to SAC in last year's championship game, getting the win this year was a special moment for the programme. "It feels good to get the win, it feels even better to do it here at SAC. We had to do it together to come back and get the win this time. Everyone who was here last year really wanted to get the revenge after the loss last year so it's fulfilling that we were able to do it," he said.
The Big Red Machine fared better in the senior girls' division and dominated the Big Red Machine with a 21-3 win in game two.
SAC pitcher Rachel Rolle said the complete turnaround in game two was due to a better effort executing.
"We played as a team, we had much better communication on the field. We talked and everyone was aware of their assignments. Once we do that I know we can beat any other team," she said.
"The support was here, we had comfort and a real home field advantage. The support means everything to us."
Added Big Red Machine catcher and team captain Willow Sturrup: "We made plays, we got the ball, we got the outs, we just executed better today. Once we are able to do that again we'll close out with a championship."
Game three is set for Friday afternoon at the Baillou Hills Sporting Complex.