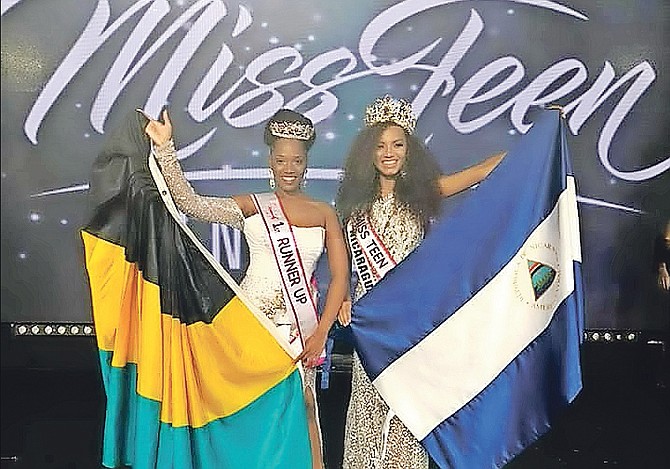 By CARA HUNT
Tribune Features Writer
cbrennen@tribunemedia.net
Seventeen-year-old Amani Stuart has done what many Bahamian beauty queens can only dream of: placing in the top three of an international pageant.
The reigning Miss Bahamas Teenager won not only the judges' hearts, but also the admiration of her fellow competitors by placing as the first runner-up and also for being declared to have the "Best Attitude" at the Miss Teen Universe Pageant pageant held in Mexico City.
"Placing first runner-up was a blessing and a huge accomplishment for me," Amani told Tribune Woman.
"I went into the competition determined to do my very best and put my best foot forward, and that is what I did. Also, I have to say that the Miss Bahamas Teenager committee did everything they could to help me be so well prepared for the pageant," she added.
Amani faced off against 16 other contestants from around the world to capture the first runner-up spot, right behind this year's winner, Miss Teen Nicaragura Alondra Leyton.
She also won the "Best Attitude" award by, as she puts it, "simply being nice to the other girls."
"I really think I stood out by being personable. I was one of the first girls to arrive and so I went out of my way to greet each of them and get to know them and just be nice to them," said.
Amani also made a point to invite all her fellow contestants to visit the Bahamas and stressed that the country needs tourism in the aftermath of Hurricane Dorian.
She said that the entire pageant experience was an amazing one, but admitted her biggest surprise was the weather and the altitude of Mexico City.
"It was a lot colder than I had expected," she said. "The other thing that I had not considered was the altitude. I really had to adjust to that because it does affect how you feel physically."
Anishka Lockhart, director of the Miss Bahamas Teenager Organisation and president of the Regency Bahamas Pageant, said Amani performed "immaculately" in the swimsuit, talent, interview and costume segments of the international competition.
"This 17-year-old-student of Saint Augustine's College carried the Bahamas across her chest with pride. During this competition, she embodied what it means to be 'Bahamas Strong' in the aftermath of Hurricane Dorian, sharing the message that the Bahamas is still open for business and we are resilient people," said she said.
When Amani first joined the pageant programme a year ago, Ms Lockhart said they immediately knew they had a "gem" on their hands.
She described the teen as an intelligent, well-spoken, true Bahamian beauty who showcases "a heart of gold and a smile that radiates wherever she goes."
"We, the committee of the Miss Bahamas Teen Organisation, are bursting with pride as this queen harvested all the training, hard work and rehearsals planted into her," said Ms Lockhart.