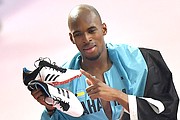 By BRENT STUBBS
Senior Sports Reporter
bstubbs@tribunemedia.net
IN an effort to assist themselves and show some support for the victims of Hurricane Dorian, the Bahamas Association of Athletic Associations will hold its first Masquerade Race Weekend.
It's scheduled for Saturday and Sunday, December 7-8, and will include a series of competitive races and an awards banquet, according to BAAA President Drumeco Archer.
On Saturday, December 7 starting at 6am from Arawak Cay, the BAAA will hold a 10-kilometre race, a 1/2 marathon relay and a one-mile Dorian walk, the latter that will start at 7am with men's world 400 metre champion Steven Gardiner acting as the patron. "At the end of the races at 10am, we will have a Kids Athletic Festival where we are catering an environment to attract young kids to come out and be a part of the BAAA in a non-competitive way," Archer said.
"We believe that is our way of promoting track and field from the bottom up and it's an exciting time for us because it has never been done before. The concept of creating a road race that interacts more with the Bahamas and the community is very different from what most races do."
This event, according to Archer, will be targeting Bahamians to become more involved in what it is that the BAAA does.
"It's a different approach, a different product and we believe that when we do both, we have a holistic product at the end of the day," Archer said. "So the Masquerade Race weekend will hope to achieve just that.
"The Dorian mile walk is important to us because many are saying what is it that we are doing in response to hurricane victims, many of whom are directly involved in our sport. So we want to create an environment where Bahamians recognise how sobering it is that our very own athletes who have been transplanted from Abaco and Grand Bahama to come to Nassau, whether temporary or permanently, we want to help those people."
The only criteria for those participating is to make a donation of $10 and to represent their organisations by wearing their own paraphernalia, whether they are in school, business, civic and social societies.
On Sunday, December 8, the BAAA will hold their Masquerade Awards Banquet at the Nassau Art Gallery, starting at 6:30pm with cocktails. Donations for the event is $150 per person.
"We are appealing to corporate Bahamas to purchase company tables," Archer said. "We are providing all of our athletes who made national teams this year with complimentary tickets as we celebrate them by presenting them with their awards.
"It's the Christmas time and so we know it's an exciting time of the year. We will have a lot of entertainment and prizes and surprises. We are appealing to companies to use this event as their Christmas gifts to their employees to celebrate the season."
Persons wishing to purchase tables are urged to contact the BAAA office at 325-4433 or Archer at 357-5837.