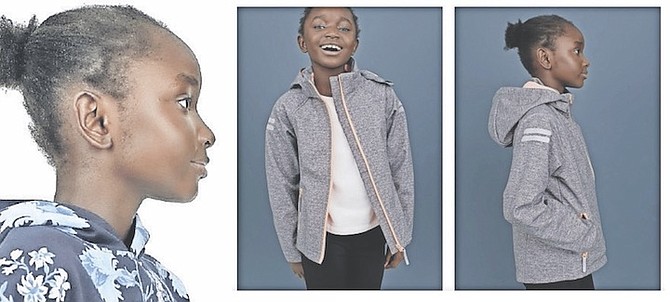 By ALESHA CADET
Tribune Features Reporter
acadet@tribunemedia.net
International clothing brand H&M has found itself in hot water, facing fierce backlash over a new ad campaign featuring a young black girl with what some people are describing as an "unkempt" natural hairstyle.
Celebrity hairstylist Vernon Francois took to Instagram to express his passionate views on the matter. He said it essential people have a conversation concerning the photographs for this campaign.
"Before I begin, I do not have the facts, nor have I seen any statement by H&M or the team who worked on this. This post is just an assessment based on all my years of seeing situations like this happen time and time again. And it's got to stop. This beautiful young girl's kinky hair appears to have had very little to no attention, yet all of her counterparts have clearly sat in front of someone who was more then capable of styling other hair textures. My heart breaks imagining yet another girl from my community sitting in front of a mirror being ignored by the team around her, left to her own devices because someone didn't know how to handle her texture," said Mr Francois.
He went on to say as if that's not bad enough, prior to the campaign appearing, it is more than likely the photograph would have been seen and approved by countless professionals.
"Let's say conservatively 50 people. It's breathtaking to me that not one person looked at this shot and had the same reaction that the internet seems to be feeling since the campaign broke. That is an issue. We must do better. Our girls, our young women deserve better. Let this be a moment of learning," added.
Here in the Bahamas, people have also been noticing that several big fashion brands seem to be missing the mark lately when it comes their depictions of African Americans and other black people.
After seeing the pictures, local hair braider Shantell Cooper – who comes in contact with many different hair textures through her job – decided to do some research into the matter.
"From my understanding the kids in the photoshoot were asked to wear their hair in a messy fashion. However, the girl with the 4C hair stood out the most as many felt as though it was simply unkempt," she told Tribune Woman.
While she understands the outrage from some quarters, Ms Cooper said she also feels this incident is indicative of the fact that self-acceptance among black people still needs a lot of work.
"I have mixed feelings because I do feel as though the girl's hair could have been presented a little bit better, even if they were going for a messy look. I read a lot of comments from people who really spoke poorly about the girl's hair and I realise that as black people we still have a very long way to go in loving and accepting ourselves," she said.
In the face of the social media firestorm, the Stockholm-based H&M responded wit the the following statement: "We are aware of the comments regarding one of our models for H&M Kids. We truly believe that all kids should be allowed to be kids. The school-aged kids who model for us come to the photo studio in the afternoon after school and we aim for a natural look which reflects that."
One Bahamian parent, Jessica Adderley, said she can see H&M's point regarding the 'messy' look, seeing as by the time her young girls get home from school the hairstyles they left the house with in the morning are long gone.
"I know a lot of issues in the world, especially America, are sensitive. Who am I to tell persons not to be? People feel the way they feel based off of their personal life experiences. But I can say I understand how the hairstyles would not be in a photoshoot-ready place after spending so many active hours at school during the day. After seeing the remaining photos of all the young girls, I said 'OK, yes, maybe they did ask them all to keep their hair as is.' At the end of the day none of them have the same textured hair, so every 'messy' look would not have been the same."
Similar to Ms Cooper, Ms Adderley feels this controversy has shown the need for more conversations about resisting Eurocentric beauty standards.
"I think there has to be more embracing of the natural beauty as opposed to what people think we should look like. The young lady is beautiful," she said of the young model.
H&M's Head of Inclusion and Diversity Ezinne Kwubiri also took to her personal Instagram page where she posted an image of herself wearing her hair in its natural state as a child next to the H&M ad campaign that sparked the outrage.
"A few points to make, I am both of these girls. In my hair's most natural state I look just like this. If I weren't so fearful of society's response I would embrace and celebrate my hair the way it grows out of my scalp. The child models (there were several) used in this photoshoot embraced their natural, everyday, carefree looks. Like everyday children always do. This young lady is likely still exploring her self-identity and her perception of beauty, and how those things might connect to her hair texture, skin tone, lips, brows, etc. I certainly was at her age. It's important to keep this in mind when having these "internet" conversations as words are very powerful. They can uplift, and they can hurt. She should be afforded the same carefree joy and vulnerability as the other kid models. The adult brown skin girl that is me wishes one day to have the same," said Kwubiri.
However, she added that the presence of hairstylists with a variety of skills for different hair textures is sorely lacking in the modelling industry.
"I stand with these hairstylists that are using their platform to bring awareness to this gap and I am committed to continuing the conversation to promote diversity and change. Perception is a wide spectrum. Everyone should take responsibility for their own role in a creating and circulating their opinions based solely on their own biased experiences. Look within yourself and think of your contribution to this conversation. I know I am using my experiences as a tool to educating people that don't look like me nor share my experiences. The work continues," said Kwubiri.