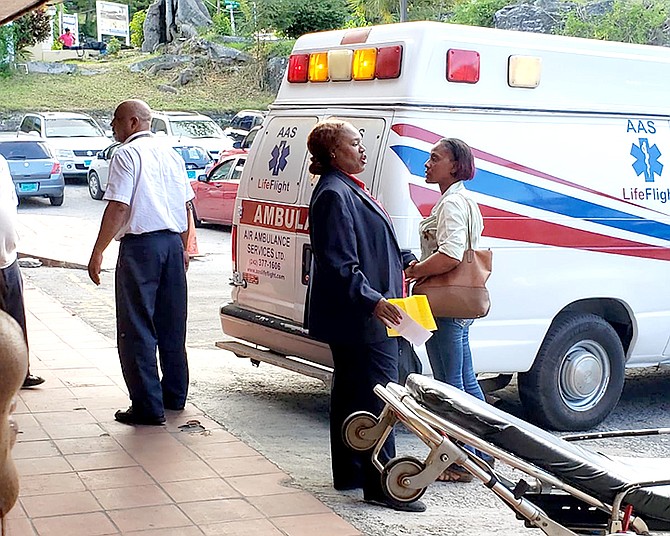 By LEANDRA ROLLE and YOURI KEMP
FORTY-NINE students and one adult were airlifted to New Providence Friday for medical treatment after showing symptoms consistent with carbon monoxide poisoning on a school bus in Andros.
The group containing children ages 10 to 17 were enroute to Central Andros High School from Cargill Creek when officials believe smoke from the exhaust entered into the cabin, causing the students to fall ill.
Initially police said the school bus was carrying 39 students and one adult, but the Public Hospital's Authority later released a statement confirming there were 50 persons on board when the incident happened.
Health Minister Dr Duane Sands confirmed the incident to reporters early Friday afternoon. At the time he said nine students were in critical condition.
Some parents gathered at Princess Margaret Hospital, anxious about their children's wellbeing.
"We've had several children going in and out of consciousness, confusion, chest pain, shortness of breath, dizziness. These are the typical symptoms of carbon monoxide poisoning," Dr Sands said.
"Based on that clinical assessment, the treatment is to remove persons from the source of the carbon monoxide and then to treat them with oxygen….I am pleased to say that based on the interim reports that the children are getting better and none of them are deteriorating."
Due to lack of resources on the island to treat the affected students, Dr Sands added that the children would be taken to Nassau to seek further medical attention.
During a press conference at Princess Margaret Hospital later Friday, Deputy Medical Chief of Staff Cordelia Nairn told reporters that 16 students had been received at the hospital at that point.
She said they were all conscious, alert and considered to be in stable condition.
According to Mrs Nairin, tests have already been started to confirm whether the children are suffering from carbon monoxide poisoning.
When asked how long affected students will have to be monitored at PMH, Mrs Nairin replied: "It will all be based on their clinical conditions if they continue to be symptomatic then those patients will have to remain in hospital at PMH for a longer duration."
In an interview with The Tribune, one parent who did not want to be named, claimed she was frustrated because at that point she had not seen her daughter because she was in observation.
Sheree Neymour, another parent and mother of three of the students on the bus, said the situation could have been a lot worse, pointing to the "deplorable" conditions of the roads in Andros.
PHA later released a statement that read: "The first patients airlifted from Central Andros to New Providence in relation to this incident arrived at the Princess Margaret Hospital Emergency Department shortly after 2pm. As of 5.30pm Friday afternoon, the hospital had received 36 children and the bus driver.
"Six of the children are listed as stable and will remain in hospital for observation. All the others are scheduled to be discharged this evening. The hospital is prepared to receive the remaining 13 children as they are airlifted, over the course of the evening."
In light of the incident Dr Nairn is also asking members of the public in need of urgent care to seek care at polyclinics in New Providence, including the South Beach Health Centre, Elizabeth Estates Clinic, Flamingo Gardens Clinic and Fleming Street Clinic. Persons in need of emergency medical care should call 919 or go to the PMH Emergency Department for treatment.
An official from the Ministry of Education was on scene trying to coordinate meals and accommodations for parents waiting in A&E to receive their children.