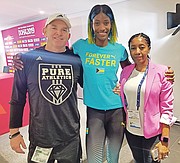 By BRENT STUBBS
Senior Sports Reporter
bstubbs@tribunemedia.net
DOHA, Qatar — After watching Shaunae Miller-Uibo cross the finish line to win the silver medal, her American coach Lance Brauman felt the new NACAC Area and Bahamian national record holder had done all she could against world leader Salwa Eid Naser of Bahrain.
In the final in the women's 400 metres at the Khalifa International Stadium on Thursday night, Miller-Uibo had to settle for her second silver medal in her signature event and her third in three straight championships, held every two years.
Miller-Uibo, the bronze medallist in the 200m in London, England, two years ago after she got fourth in an unspectacular finish in the 400m in a quest for the double, trailed Naser to the finish line in what turned out to be one of the fastest races ever held.
The 21-year-old Nigerian-born Naser sped to an impressive time of 48.14 seconds for the third fastest ever, leaving 25-year-old Miller-Uibo behind in her time of 48.37 for the sixth-best of all-time. "She ran exactly how she was supposed to run," Brauman pointed out. "She hit the time she was supposed to hit, 48.3, but it wasn't fast enough to win. But the race model was perfect. Naser won, so she ran really well.
"She ran exactly the way we had planned for her to run. Naser just ran faster."
The loss was Miller-Uibo's first in two years, but when they begin their offseason in November, Brauman said Miller-Uibo will be trained to run faster once she stays healthy as she moves on to bigger and better things next year.
And one of those things, if Brauman has his way, is to get the Bahamian double 200-400 national record holder to pursue the double at the 2020 Olympic Games in Tokyo, Japan - a feat she attempted in 2017 at the last Worlds in London, England, where she faltered down the stretch in the 400m and had to settle for fourth place before clinching the bronze in the 200m.
"She's good at both of them, so I think it would be good for the sport," he insisted.
"I think it would be good to see the 100m people run against the 400m people in a mid-range race. I think it would be good for both of them. It's the ultimate competition."
Brauman said his goal is just to get Miller-Uibo to the starting line to compete.
All of the other logistics is entirely up to the Bahamas Association of Athletic Associations and her On Track Management Group, headed by Claude and Juanita Bryan.
"If she gets another opportunity, she will most definitely be ready," said Brauman, who had put the attempt in 2017 behind him.
Miller-Uibo, adorned in her Bahamian flag coloured hairdo, said if she is allowed to pursue the double, she will definitely go for it.
"We will have to train a little harder and see where it takes us," said Miller-Uibo, who will go in as the defending Olympic 400m champion, having won the title in 2016 in Rio de Janeiro, Brazil. "We came here prepared to run pretty low and we did just that.
"We discovered that Naser took it a little lower, so we have to be prepared to work harder. But next year, if the schedule is set up for it, I will definitely go for it."
Miller-Uibo joined her 26-year-old husband Maicel from Estonia on the podium as he captured the silver medal in the men's decathlon on the same night of competition.
A day later, she was followed by her close friend Steven Gardiner, who earned a gold medal for the Bahamas in the men's 400 metres.
It was the only two medals won by the Bahamas for 13th place overall in the standings. Their two medals increased the Bahamas' haul to eight gold, nine silver and eight bronze for a total of 25 overall in these global championships that are held every two years.