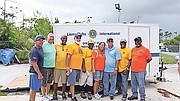 By DENISE MAYCOCK
Tribune Freeport Reporter
dmaycock@tribunemedia.net
THE Freeport Lions Club and Lions International have gone in several affected communities in Grand Bahama delivering relief supplies to residents from Freeport to East End.
Lions Club President Dudley Bent and Willie Gonzales of Florida led a team of members last week on their third outing since the passage of Hurricane Dorian.
They ended their relief distribution in East End, which was the hardest hit area in Grand Bahama where many lost their lives, homes, and property when a 20ft surge swept the area on September 2.
The group brought a total 40 pallets of food which were donated and collected in the US by the Lions Club International.
Mr Bent said that going into East End was very "touching" when seeing the devastation and its impact on residents there.
"It touches you," he said, especially to know that retired residents such as William Cooper will have to start all over against after losing his home.
"William Cooper had a three-bedroom home in High Rock and it's only the foundation - just the bare concrete - that is left, the entire home is now gone and he has to be trying to repair his workshop to live in. This is a man who worked all his life and had retired, and now he has to practically start over. It touches you."
Mr Bent, who is also project manager for Lions International Bahamas Relief Project, said "we have to be our brother's keeper and help each other."
He noted that Lions International is one of the world's largest service organisations, which started in 1917.
The group started early in the morning in North Bahamia, moving from community to community delivering food care packages to residents.

"We gave out food, water, and put tarp on people's homes for them, helping with clean up, anywhere there is a need we are here to help," Mr Bent said.
They plan to go into the Arden Forest area and other areas this weekend. In addition to Arden Forest, storm surge had inundated many communities in Freeport, including Queens Cove, Back of Town, Sunset, Heritage, Hudson Estates, Coral Reef Estates, and Pioneer's Loop, Regency Park and North Bahamia, Hawksbill, and the entire downtown area.
Mr Bent said: "For me personally, I never seen water like that before. I worked at one of the shelters at First Baptist Church and when you see water destroy people's homes and lives, and the water reach in the centre of Freeport, it tells you that this storm was here to create some very serious damage."
He said that people must take heed and evacuate when the order is given for them leave.

"If they say evacuate don't hesitate or question or put politics in it - your lives are more important and you got to take it serious," he said.

Mr Bent indicated that the local Lions Club has been able to call on other chapters of Lions Club International, allowing them to pool their resources for relief items.
"Our next shipment is due on Thursday, and we will give school supplies to the schools - so we are working very hard," he said.

There are two clubs in Grand Bahama, where there are presently 59 members locally.
Daashia Cochran - who travelled along with Willie Gonzalez of the Marathon Lions Club and Florida Keys on all three trips bringing relief items and supplies to Freeport - said nothing could prepare outsiders for the vast devastation she has seen on Grand Bahama.

"I've been on all three trips now with Mr Gonzalez, who organised the relief efforts from the Florida Keys through Florida up to Port St Lucie," he said.
"Just two years ago we went through Irma and I (am) still trying to rebuild our home that was destroyed. I kind of felt like I had prepared myself mentally, but I don't think you can ever prepare mentally for just the emotions that are involved in this where you need disaster relief and where families' lives have changed forever," Ms Cochran said.

She stated that the lives of Bahamians impacted by Dorian will never be normal after such a storm.
"I heard people saying we want to get back to a normal, but that's changed. The normal they once knew is not going to be same normal ever again. They must consider it a new life from this point on because they are starting over as changed persons."