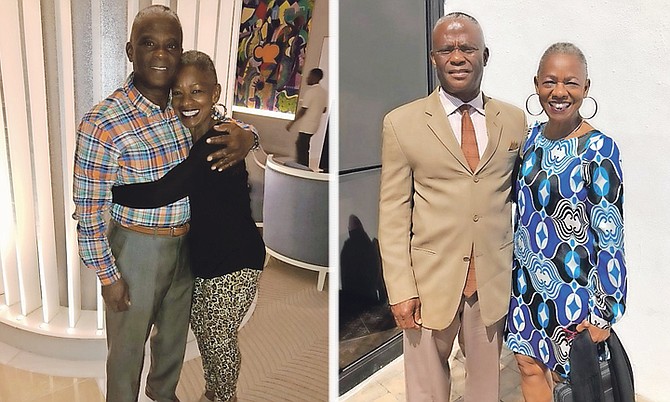 By JEFFARAH GIBSON
Tribune Features Writer
jgibson@tribunemedia.net
The true test of the wedding vow to have and to hold your spouse "in sickness and in health" came for the Delvon Millers when his wife, Judy Lundy Miller, was diagnosed with breast cancer 12 years ago.
"Times like that is when the weight of your vows is realised," he told Tribune Woman.
Delvon and Judy celebrated their 39th wedding anniversary last Friday with a casual outing to a local jazz bar with some dancing. He believes his commitment, devotion to and moral support of his wife was one of the biggest factors in her recovery and remission process.
Like many husbands whose wives have been dealt the blow of a breast cancer diagnosis, Delvon became the rock on which Judy's recovery was built. And while she was the one who received the diagnosis, he was also on the front lines of the battle against the disease.
Judy describes herself as 12-year breast cancer warrior. Though she underwent yearly mammograms, physical examinations and has been a "health nut" for years, she discovered a lump in her breast.
Once she felt the lump she spoke to a girlfriend of hers, a nurse, who told her to get it checked out immediately.
"I went to see the doctor and still was not alarmed. My alarm does not go off very easily," said Judy.
"I made an appointment to see Dr Locksley Munroe. I met at his office and I told him I wanted to know immediately what the deal was."
Judy was then scheduled for a biopsy that came back with a stage two breast cancer diagnosis.
"At that point I still was not shocked. My mindset was, 'How are we now going to deal with this. How are going to get rid of this thing so I can move on with my life?'" she said
The diagnosis did not trouble Delvon at all. He reasoned that remaining optimistic would serve his wife much better than him spiralling into panic.
"There was never a point in time where I thought I was going to lose her," said Delvon. "And Dr Munroe, who was such an excellent doctor, really gave us that confidence that it would be OK. His bedside manner is just impeccable.
"When she was diagnosed Dr Munroe sat us both down and told us what to expect. Fortunately for her, the cancer was at an early stage. She had surgery (to have her right breast removed) and after the surgery she had the horrific chemo therapy which was one of the things that affected her the most."
Judy said fighting through the rounds of chemotherapy was the biggest challenge she faced throughout the journey.
"I would not wish it on my worst enemy," she said.
She experienced side effect such as nausea, vomiting and immense pain at times.
"I survived and I have a scar to prove that I am warrior and 12 years later I am still standing. So I like to motivate women who believe that once they are diagnosed their life is over."
Delvon said his responsibility as a husband was amped up after the diagnosis, and he took pride in being able to offer his wife the emotional support she needed.
"Surgery plays a critical part in eradicating the condition, but that moral support and that pep talk every so often is necessary. There are times when they go into sort of a depression feeling down and out sometimes. So it is necessary to you them that pep and let them know that everything is going to be OK," said Mr Miller.
Judy received additional support from the ladies who are a part of the Gennie Dean support group, of which she is a member. She has also dedicated herself to encouraging and helping other women in the fight.
"Many women think after a diagnosis, 'Oh my God, my life is over', and they get so discouraged and so downtrodden and that makes them sicker. (Mental) perspective in a diagnosis of cancer can save your life. And you have to be around people who would uplift you and encourage you and who you know will have your back," she said.
Judy, smiles as often as she can, knows that Delvon will continue to have her back, as he has demonstrated over the past 39 years of their marriage.
"We have had our struggles, but I would not change anything. All of it has made both of us better, loving, caring people. We love each other with no masks on. We try to take each day at a time and allow God to take us through. I cannot imagine my life without Delvon. He is my rock number two; Jesus is my rock number one," she said.
Delvon said he is looking forward to next few decades of standing by his wife and continuing the fight alongside her.
"You can't describe the feeling being married to someone this long. I just told someone that the last few years of our marriage seem to be the best. Marriage is like wine – it gets better with age," he said.