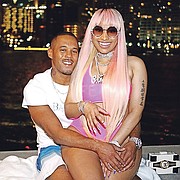 By JEFFARAH GIBSON
Tribune Features Writer
jgibson@tribunemedia.net
Superstar rapper Nicki Minaj has been the subject of trending news stories lately for her quick and unexpected marriage to husband Kenneth Petty, a registered sex offender who has also served time for manslaughter.
According to TMZ, Petty was convicted of first-degree attempted rape in April 1995. He was 16 at the time, and so was his victim. Prosecutors said he used a sharp object when he tried to force the girl to have sexual intercourse. Petty served almost four years in a New York state prison for the crime.
Petty also pleaded guilty to first-degree manslaughter in the shooting death of a man named Lamont Robinson in 2002, according to a criminal complaint obtained by The Blast.
Officials originally charged Petty with murder in the second degree, however this was lessened to manslaughter when he cut a deal. Petty plead guilty to the manslaughter charge in March 2006 and served seven years in prison after being sentenced to 10. He was released in May 2013, and had been on supervised release for five years until May of this year.
When Nicki posted photos on Instagram of them together last December, insinuating in her captions that Petty wanted to make her his wife, her fans and followers quickly pointed out his criminal rap sheet, to which she responded: "He was 15 (sic), she was 16 … in a relationship. But go awf internet. Y'all can't run my life. Y'all can't even run y'all own life."
Like Nicki, many Bahamian women have also tied themselves to men who were once married to a life of crime. But under what circumstances would a man with a criminal past be a viable partner choice? What crimes can a woman look past in her quest for love? We asked Bahamian women their opinions on this controversial matter.
Local educator Lola* said this really scenario hits home for her as she had a family member who walked down the aisle with an ex-con.
"Shortly before my aunt's marriage it was revealed to us that her husband is an ex-con. He murdered his former lover. Everyone was against the wedding. Half of the family did not show up. We didn't support the marriage," she told Tribune Woman.
"And for 80 percent of their marriage it did not work, but she really loved him. Then December before last we were called to the hospital because he attempted to murder her and her kids. He beat her with a crowbar. So if you are asking if I would date a man with a criminal background that would be a no-no."
Lola said her aunt's divorce was recently finalised and her ex-husband is now serving time for attempted murder.
"I remember her justifying to us, the family, when we brought forth our concerns and he told her that it was just a crime of passion at that time and basically he did not know it was going to happen. I thought it would be best for me to learn from the mistakes of other people around me and that is one mistake I won't make," she said.
When it comes to weightier crimes such as murder and rape as in Kenneth Petty's case, Cyntish* said she can forgive a crime of murder over rape.
"Some murders are crimes of passion and you can understand why it happens. But in the case of rape, where he used a knife on the victim, is just really sick and tells of this man's psychological state. Has he even been rehabilitated?" she said.
Proven reform and rehabilitation depending on the nature of the criminal activity are necessary for Tonette* to even consider forging a romantic relationship with a man who has a criminal history.
"I know people deserve second chances at life and love, however, if I am going to date a man who has a criminal background he would have to be repentant of his past life, seen the error in his ways, and not only pledge but prove the criminal life is behind him. On top of that, many years would have to have passed since his transgression," she said. "Then I would maybe consider it, if he checks all those boxes. However, all of this is contingent on the crime he committed. I will not get in bed with a so-called reformed paedophile; I don't care what the circumstances."
Opal* said although she has always had a weakness for "bad boys", she prefers men with a higher than average IQ and ones with real financial sense.
"He can't be the broke, dumb criminal," she said. "He would have to turn his life around and invest his money. Why lead a life of drug-pushing, money laundering or financial fraud and having nothing to show for it?"
Meanwhile, June* said: "I actually had this crush on this guy who is sort of well-known on the island. I was doing my research on him and I found this criminal record in the US and his mug shot from Florida. He was a drug trafficker a few years back and he spent some time in the US in jail. But actually that did not deter me because I know what he is doing now with his life and he is very successful and it looks like he has a handle on life now. So once you can see the person has made some changes in their life and they are trying to do better, those would be the exceptions," she said.
Abigail* on the other hand said there are no circumstances under which she would consider dating a man with a criminal record.
"We create generations of black women who feel obligated to repair broken men. Many see self-preservation as abandonment and disloyalty, so much so that we will continue to implore one another to hold a black man down even if it means we are held down in the process just so we can brag about our unwavering, unrequited support...support that has garnered nothing in return."
*Names have been changed to protect identity.