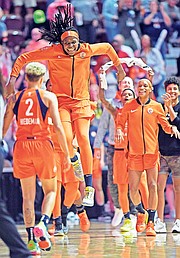 By RENALDO DORSETT
Tribune Sports Reporter
rdorsett@tribunemedia.net
THE WNBA regular season concluded and now attention shifts to the playoffs for Jonquel Jones and the Connecticut Sun.
Jones led the league in rebounding for the second time in her career and finished tied for the league lead in blocks. She finished the regular season with starts in all 34 appearances, averaged 14.6 points and 9.7 rebounds per game.
Jones also posted career highs in blocks (2.0 per game), steals (1.5 per game) and minutes played (28.8 per game). This season, Jones grabbed 10 or more rebounds 16 times, including 22 rebounds on May 31.
After an approximately week-long layoff, the Sun's playoff run will begin when they host games one and two of the Eastern Conference semi-finals, September 17 and 19 respectively at the Mohegan Sun Arena in Uncasville, Connecticut.
The top eight teams advance to the playoffs.
The first two rounds are a one-game, single-elimination game. The top two seeds, including the No. 2 Sun, will receive a bye and automatically advance to the semi-finals that feature a best-of-five format.
The No. 1 overall seed will play the lowest remaining seed and the No. 2 overall seed the remaining team. The WNBA Finals remain best-of-five and follow the same 2-2-1 format. It marks their first semi-final birth since 2012.
WNBA partners joined Jones in her philanthropic efforts in Hurricane Dorian relief.
The Chicago Sky donated $5,100 of their own money ahead of Friday's contest between the Sun and Sky at Mohegan Sun Arena.
Jones admitted that it was difficult to focus on basketball with her family and country on her mind as the season wound down.
"It's gut wrenching to look at those videos and stuff. It's almost surreal because you don't expect to see the level of devastation and damage," she told the Hartford Courant.
"It sounds crazy to other people... but I would rather be there with them and know that they're okay than to be here, honestly and truly. "That's my family. No matter what, I'll put whatever I'm doing aside to be there with them."
She pledged $10,000 to the relief efforts and organised a GoFundMe page for others wishing to contribute.
Thus far, the account has raised just over $40,000.
"Obviously I'm stressed out thinking about them," Jones added. "But I use basketball as my little outlet and try to not think about that stuff when I'm on the court or when I'm at practice. It's been helping a lot, honestly."