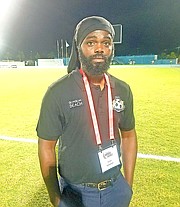 By BRENT STUBBS
Senior Sports Reporter
bstubbs@tribunemedia.net
HE could have easily been on the field kicking the ball around and setting up his team-mates for a goal. But Nesly Jean said he's enjoying his new role as the head coach of the men's national soccer team as he gets to call the shots from the sidelines.
"I'm here to give my experience to the guys, but at the same time, I'm still learning," said Jean about his transition. "It's been a good experience coaching these guys all through the summer and I'm looking forward to it."
Nesly, who acknowledged that he wasn't sure whether he misses playing as much as he now likes coaching, said it was a gratifying feeling to be able to pull off a 2-1 win over Bonaire in their first CONCACAF Nations League match on Monday night at the Thomas A Robinson National Stadium.
"This was a great win because this actually puts us on top of our group," said Jean about the Bahamas moving ahead in Group C. "I'm just happy that our guys were willing to come out here and win it for the Bahamian people."
Happy Hall, who got the all-important first goal of the day in the 49th minute, heading home a rebound past the fallen keeper, said the team put their "heart and soul" in securing the victory.
"I'm emotional," said Hall, who tried to hold back the tears. "We had a tough time preparing for this. I can't compare it to the people in Abaco and Grand Bahama. "But the power was off and we showed up training with the lights on in our cars.
"I think now, we are all in a rebuilding stage and this is a good time for that moving forward."
Cameron Hepple, back on the national team after a four-year break, added insurance in the 78th minute when he booted in the second goal.
He gave a lot of credit to Jean for putting the team together. "Massive. Everyone is out here playing because of what we went through," he stated.
With his two leaders coming through, Jean said they made his job that much easier. "Those guys I will put my trust in them. They played alongside me, so I brought them back to actually lead the young guys, the next generation," Jean said. "They did fantastically. Words can't express how they did."
When he gets the other pieces of the puzzle together, including Lesly St Fleur, who is currently playing beach soccer in China, Jean said the Bahamas has a good chance winning their division.
"We have to go back to the drawing board and look at the positives and the negatives and try to fix what we did right and what we did wrong," he pointed out.
"Every game you have different preparations, so we have to get ready for the next game in three weeks," he added.
Bonaire, who lost to the British Virgin Islands in their first game, got their lone goal in the 93rd minute, thanks to a free kick from Yurick Seinpaal.
Jean and the Bahamas face British Virgin Islands in their next game.
With a spirited group of spectators, Jean said they are hoping to carry that momentum into their next game and he's hoping that he can continue his winning streak as the new men's national soccer coach.