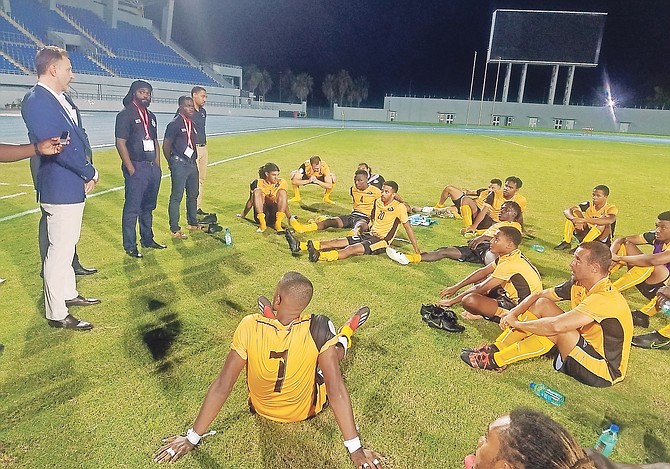 By BRENT STUBBS
Senior Sports Reporter
bstubbs@tribunemedia.net
CONCACAF general secretary Philippe Moggio had nothing but praise for the Bahamas men's national soccer team following their 2-1 triumph over Bonaire in the Nations League match on Monday night at Thomas A Robinson National Stadium.
"Every one of our members from CONCACAF sends you our love and support," Maggio said.
"We know that you guys have come together as a community, which shows how resilient you are and you showing up today and playing together as a team sends a very strong message.
"We want to encourage you to continue to hold your head up. I believe you can really be a strong force for your nation going forward. Congratulations on today's win. You guys were fantastic. Well done," he said.
With the victory, the Bahamas moved on top of Group C in the Nations League.
The team, now coached by Nesly Jean, will play their final game in this series on October 9 in the British Virgin Islands. The BVI defeated Bonaire in their first game.
Anton Sealey, president of the Bahamas Football Association, introducing Moggio to the team, said it was a difficult week leading up to the match as he was preoccupied with Hurricane Dorian, but he too was thrilled by the team's success.
"You can see it and try to imagine what it is like, but unless you see it, you can't really appreciate it," he said. "So I really want to congratulate you all in coming out here and performing with that as our backdrop. That is tremendous."
Sealey also congratulated Hall, one of the two-goal scorers for the Bahamas, in helping to lead the hurricane relief efforts for the people affected in Abaco and Grand Bahama by Hurricane Dorian that passed through the two islands over last weekend.
"Whatever donation you can do will go a long way in helping the people affected," Sealey said. "You might think it is insignificant, but believe me, everything assists, everything home. Whatever you have, the people need it.
"So no matter how small or insignificant you might think it is, the help is desperately and sorely needed. So in any way you can help, please do because this is going to be a long haul. This is a long way back for the people of Abaco and Grand Bahama. They need our support and our help."
In congratulating the team, led by the 1-2 punch of Hall and Cameron Hepple, Sealey said he's confident that the Bahamas will win Group C and advance to Group B.
Bonaire's head coach Brian van den Bergh said the Bahamas did a great job, despite what the country has gone through with the passing of the hurricane.
"I think the attitude that they showed today in the time that they are going through with the hurricane, I think they brought some happiness to their people who have been suffering," he said. "It's a great win for them and they deserve it."
While Hall got the Bahamas' initial goal on a header in the 49th minute, Hepple booted in the insurance goal in the 78th minute.
Yurick Seinpaal answered for Bonaire by scoring their lone goal in the 93rd minute.