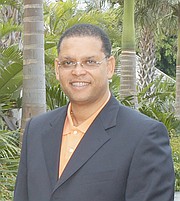 By YOURI KEMP
A senior Baha Mar executive yesterday said bookings from relief workers were expected to "offset" leisure traveller cancellations triggered by Hurricane Dorian.
Robert Sands, pictured, Baha Mar's senior vice-president for government and external affairs, told Tribune Business that the mega resort had experienced some cancellations prior to the devastating storm making landfall in The Bahamas.
He said: "It is fair to say, prior to the hurricane being announced, there were a number of guests who either cancelled or postponed their trips to The Bahamas for this particular time period."
"Additional business from aid and relief workers, and other associated parties, have booked in reasonable numbers to offset the fall-off in expected guests at Baha Mar. So we are looking for a very short-term fall off."
Mr Sands said it was important that Baha Mar and the wider tourism industry that was unaffected by Dorian make potential visitors aware that The Bahamas is made up of multiple islands that are still open for business.
"As a result we have launched a programme called 'pack with love', where we encourage travellers to bring small care items for those affected by Hurricane Dorian," he added.
Baha Mar's position mirrors that of Dionisio D'Aguilar, minister of tourism and aviation, who has told international travellers that "the best thing they can do right now" to help The Bahamas is visit the islands that were not devastated by Hurricane Dorian.
Signalling that this nation and its major industry remain open for business given that the category five storm ravaged just two of its 16 commonly-visited islands, Mr D'Aguilar said: "Maintaining a robust tourism industry will be vital in helping the country to recover and rebuild.
"We are grateful for the outpouring of support and love for our islands, and we would like everyone to know that the best thing they can do for us right now is visit Nassau, Paradise Island, and the Out Islands. Our beautiful island nation is ready to welcome you."
The 14 islands unaffected by Dorian include New Providence and Paradise Island, the Exumas, Eleuthera and Harbour Island, Bimini, Berry Islands, Inagua, Andros, Cat Island, Long Island, San Salvador, Rum Cay, Acklins and Crooked Island, and Mayaguana.