By JEFFARAH GIBSON
Tribune Features Writer
jgibson@tribunemedia.net
FERRICE Kemp was one of many volunteers who were quick to answer the call for people to help lift, unbox and package items to bring relief to those devastated by Hurricane Dorian.
A member of the Royal Bahamas Police Force, Ferrice has devoted most of her free time in recent weeks to volunteering at the New Providence Community Church (NPCC) and for other efforts around the island.
She even took it a step further by providing moral support to an anxiety filled and frightened man, Dejon Robinson, who had posted on Facebook about needing to be rescued. The man and his family were stuck on their roof as Hurricane Dorian pounded the islands of Abaco and Grand Bahama.
"He left his number on the post. So I called it and he answered stating that he was still on the roof of that home, still not rescued yet," Ferrice told Tribune Woman.
"I contacted NEMA in Nassau to inform them of his location and his contacts. I was calling him every hour on the hour and prayed with him and his family until about 11.30pm when the phone system failed.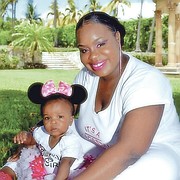 "I was scared and couldn't sleep because I didn't know if they were hurt or not. The following morning I saw a message on Facebook saying that he was OK. He then later contacted me and stated that he and his family had to swim to another house and after about 45 minutes at the home they were rescued. I was so happy to receive that news from him – one of the happiest days of my life," she said.
This level of caring and consideration Ferrice showed to Mr Robinson and his family is the same spirit that led her to launch the Hadassah's Helping Hands Foundation – an organisation that has been assisting in more ways that one, especially now in wake of the hurricane.
In addition to partnering with NPCC for hurricane relief efforts, the organisation is now getting ready to host a vision board party at the Ranfurly's Children's Home on October 5.
"We not only want to host this event for the evacuees from the affected islands of Hurricane Dorian, but also for the other children who reside in the home," she told Tribune Woman.

Hadassah's Helping Hands Foundation (HHHF) was named in honour of Ferrice's three-year-old daughter, who is called Hadassah.
After Hadassah was healed from Hirschsprung disease – a life-threatening condition that required corrective surgery – Ferrice established the foundation to teach people around her a valuable lesson: "Pay it forward and to help those who are less fortunate throughout our communities."
The goal of this foundation, she said, is to empower the Bahamas' children, not only to be the future, but also to be purposely the present.
"Hadassah is a Hebrew name meaning myrtle tree, righteousness, and one that is favoured by God. My favourite quote, which is by Anatol France, states: 'To accomplish great things we must dream as well as act.' I strongly believe in this quote and I live my life daily by it. In life we must put our best foot forward and not only dream of our goals but put it into action. Hence, this is why I have started a foundation that helps individuals of which I have a passion for," she said.
The second aim is stated in the organisation's slogan: "Hands that share with hearts that care."
Since launching last September, the foundation has hosted several events and supplied volunteer work to assist those in need. HHHF organised a back-to-school fun day for kids at the Nazareth Children's Centre and offered their services to raise money for a medical fund. Team members also helped feed the elderly a Thanksgiving dinner at the Persis Rodgers Home, put on a Christmas party at the Children's Emergency Hostel, and hosted a tea party to raise funds for care packages to distribute to the less fortunate in the communities.
The organisation has also done volunteer work with Katherine Coakley Rolle, founder of Purpose Made Me Do, distributing care packages, clothing and food on Windsor Park to those in need.
HHHF also went into four communities, including Englerston, Centreville, Big Pond and Nassau Village, and distributed 52 grocery care packages to families.
"For the remainder of the year and moving forward we plan to continue with our outreach ministries and community services. We will also have a Christmas party for the kids which will be announced at a later date. Our goals and dreams are not only to keep this organisation locally but to reach others globally so that they can experience the love, care and compassion that we show here in our home country, the Bahamas," said Ferrice.
For more information about the foundation, contact hhhfoundation242@gmail.com.