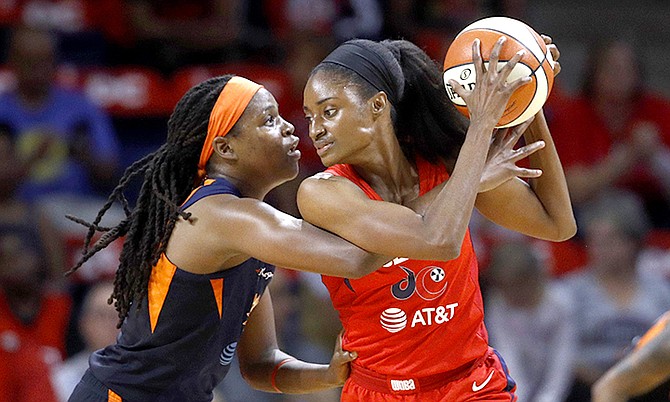 By RENALDO DORSETT
Tribune Sports Reporter
rdorsett@tribunemedia.net
The Washington Mystics got off to a hot shooting start in the first quarter and it proved to be too much for the Connecticut Sun to overcome in game one of the WNBA Finals.
The Mystics won 95-86 over the Sun at home yesterday in Washington DC's Entertainment and Sports Arena. Jonquel Jones finished with 12 points, six rebounds, four assists and one blocked shot. Jones shot just 5-8 from the field.
"Sure, I think we ran some things and she was unselfish and we got touches for her and she played out of it. At other times their switching sped us up, and we didn't always get the ball to her when I felt like we could. Again, we got on a roll early in the first half," Sun head coach Curt Miller said.
The Mystics shot 54 per cent from the field and 47 per cent from three-point range.
The Sun came within one (18-17) on an Alyssa Thomas layup, but Washington went with the front court of league MVP Elena Delle Donne, LaToya Sanders and Emma Meesseman.
The trio helped Washington go on a 12-0 run to close the quarter and give the Mystics a 30-17 lead at the end of the first. "I thought the first quarter killed us, obviously. Take away that last foul, over the last three quarters we outplayed them and outscored them, but we dug ourselves in a hole, and we were always trying to climb out of it," Miller said. "But I think they felt us a little bit there late in the second half, and as we cut it down and made it interesting, but ultimately you've got to credit their offensive execution was just outstanding when they needed it. They stepped up and made big shots out of those plays. We left some points on the board, missing some shots there as we got a little bit tired, and I need to probably stretch our bench a little bit more."
The Mystics were up 55-46 at the half and extended the lead to 17 in the third quarter before Connecticut rallied within four twice in the final period. Delle Donne - the league's MVP - answered each time for Washington with a basket. Her jumper with 4:56 left made it 82-76 and started a 9-0 run to put the game out of reach. Atkins followed with a 3-pointer that made it a nine-point game and then corralled an offensive rebound that Toliver finished off with a finger roll down the lane with 3:16 left.
"Jonquel, she's a great player. She makes some really tough shots. She's got length. So you can send bodies at her and she can elevate and shoot over, but we were able to dig," Delle Donne said in regard to the Mystics' defensive effort. "The guards were able to help me a lot on those digs. She's going to get her points, but you try to limit them and make everything hard."
The Mystics will also host game two at 8pm on Tuesday October 1. The series will then shift to the Mohegan Sun Arena in Uncasville, Connecticut for game three, Sunday October 6 at 3:30pm and game four if necessary, Tuesday October 8 at 8pm. Game five, if necessary, will be back in Washington, DC on Thursday, October 10 at 8pm.
Washington makes their second consecutive trip to the finals after they were swept by the Seattle Storm in 2018 as Delle Donne struggled through a bone bruise. The Sun make their first appearance in the finals since 2005.
The Sun won the head-to-head matchup between the two teams in the regular season 2-1.
In the season opener on May 25, the Sun won 84-69. Jones finished with 10 points and 14 rebounds, however Delle Donne was sidelined with a preseason injury.
The Sun also won the second matchup on June 11, 83-75. Jones finished with 24 points and seven rebounds while Delle Donne finished with 13 and six rebounds.
The Mystics won the third matchup on June 29, 102-59. Jones finished with 15 points and seven rebounds while Delle Donne posted a double double - 19 points and 10 rebounds.
"The playoffs have been quite exciting with competitive play and enormous talent on the court. I hope you all have seen that. We have two at the top vote getters with Elena Delle Donne -- in our 2019 MVP balloting, with Elena Delle Donne, who was our VP, and Jonquel Jones, from Connecticut, who finished third in the voting," WNBA Commissioner Cathy Engelbert said.
"Teams are averaging in the playoffs 85.3 points per game, the highest in our postseason history. In addition, since changing the postseason format in 2016 and seeding teams 1 through 8 regardless of conference, this marks the third time in four seasons that the teams with the two best regular season records have reached the Finals."