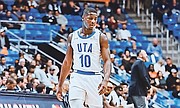 By RENALDO DORSETT
Tribune Sports Reporter
rdorsett@tribunemedia.net
RADSHAD Davis has chosen to enter the transfer portal and will conclude his NCAA Division I basketball career with a new programme.
Davis has opted to transfer from the Texas-Arlington Mavericks following a two-year stint in the Sun Belt Conference.
The 6'4" wing will enter his new programme as a grad transfer and has already reportedly drawn interest from several schools, including BYU, SIU, FIU, Portland State, New Orleans, James Madison, Morehead State, Morgan State, New Mexico State and others.
Last season, the Mavericks were eliminated in the opening round of the Sun Belt Conference tournament as their season came to an end in heartbreaking fashion.The10th-seeded Coastal Carolina Chanticleers upset the No.7 Mavericks 63-62 in the opening round.
Davis finished with seven points and five rebounds in 17 minutes.
Fellow Bahamian Ahmard Harvey did not see playing time for Coastal Carolina.
Davis averaged 8.6 points and 6.2 rebounds per game on the season.
In February, he finished with 15 points and was a perfect 4-4 from three-point range in a 68-54 win over the Louisiana-Monroe Warhawks. It tied his previous mark for the most in his Maverick career.
He posted two double doubles on the season highlighted by a season-high 19 points and a career high 14 rebounds to lead UTA to a 78-58 win over the Warhawks in the second meeting of the season. He also reached a personal milestone in the game when he highlighted his stellar performance by reaching 1,000 career points.
Davis entered the game needing 17 points to reach 1,000 for his career - 36 games at the junior college level at Missouri State-West Plains.
Davis reached the 1,000 points on a 3-pointer from the baseline opposite the UTA bench with 6:44 remaining in the game and added another bucket for his final point total.
As a junior last season, he averaged 8.0 points and 5.5 rebounds per game. He finished second on the team in field-goal percentage at 51 per cent and shot 78 per cent from the free-throw line. He tied for the team lead in total rebounds (181) and concluded the year 2nd in per-game average.
Davis hit the game-winning 3-pointer with 1.9 seconds remaining at Coastal Carolina on January 12 and followed with three straight double-figure point games for the only time from January 24 to February 2. He posted a season-high 17 points and five assists versus Louisiana on February 21 and finished with 12 double-figure point games. Davis was one of just three players to appear in all 33 games and made 10 starts.
Prior to UTA, he played at the JuCo level with the Missouri State University-West Plains Grizzlies.
As a sophomore, he averaged 16.5 points, 6.7 rebounds, 3.4 assists and 1.3 steals per game against all opponents. He finished second in the region in both scoring and rebounding. He also received All-Region 16 first team.