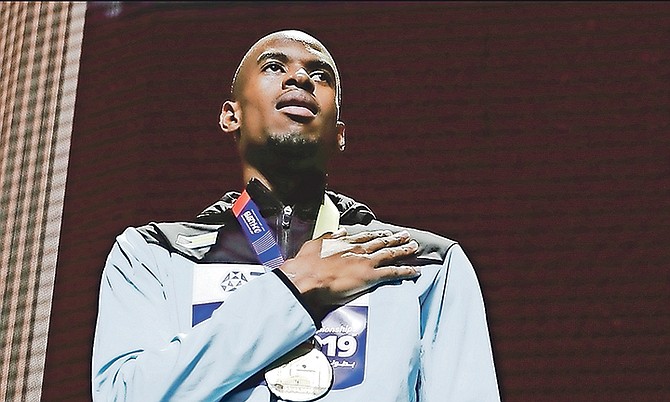 As he completed what turned out to be the climax of a shortened track and field season, Bahamian quarter-miler Steven Gardiner went out with a bang at the American Track Meet in Georgia over the weekend.
Gardiner, who didn't get a chance to compete in any 400m races this season, won the men's 200 metres on Saturday in a time of 20.19 seconds.
The reigning world champion in Doha, Qatar, last year won the race over American Chris Belcher, who was second in 21.12. Aurel Tchunbi got third in 21.57.
Gardiner, the 24-year-old native of Abaco, was coming off his victory in his heat, but second place overall in the timed final at the Back to the Track: Clermont Series.
In his third meet then at the National Training Centre, Gardiner clocked 19.96 as he trailed American Noah Lyles, the fastest finisher in 19.94.
At the end of the race, Gardiner noted that it was his fastest opener.
It was Gardiner's first normal race for the year, coming off his Bahamian national record-breaking feat at the V12 Summer Games where he won in 31.83 to erase Chris 'Fireman' Brown's previous mark of 31.91 that he posted in Osaka, Japan, in 2007.
Gardiner's time was posted as the fastest for the year and 23rd on the world's all-time list.
The previous weekend, the lanky 6-foot, 5-inch Gardiner came out with a victory in his season opener in his first 300m at the B3R Sports Invitational in 31.95.
The meets were used to help the athletes get through the coronavirus pandemic, which put a halt to sports around the global in March.
However, track and field made a gradual return with a few meets staged without any fans in the stands watching because of the social distancing protocol.
It's not known if any meets will take place on the European circuit and if they do, if Gardiner will be participating in any.
Gardiner, coached by Gary Evans, was preparing for the 2020 Olympic Games, which would have been wrapping up this week in Tokyo, Japan.
Instead, the games were postponed until July 23 to August 8, 2021 because of the coronavirus.