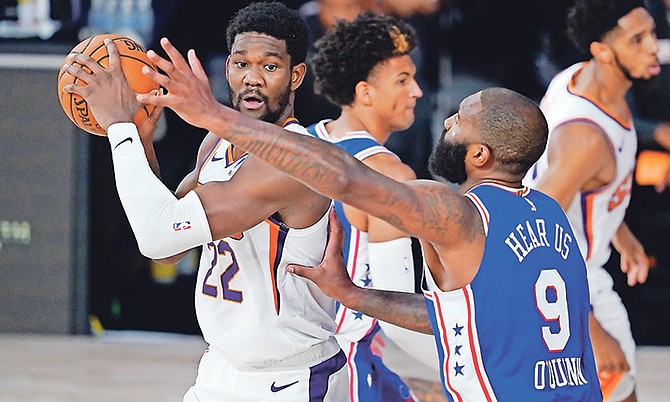 By BRENT STUBBS
Senior Sports Reporter
bstubbs@tribiunemedia.net
Bahamian centre Deandre Ayton and his Phoenix Suns kept their playoff hopes alive with a 130-117 rout over the Philadelphia 76ers yesterday in the National Basketball Association's bubble at the ESPN Wild World of Sports Complex in Orlando, Florida.
The 22-year-old, 6-foot, 11-inch Ayton played 32 minutes and 12 seconds, finishing with eight points, 12 rebounds and a pair of assists as the Suns remained undefeated at 7-0 since the league resumed play after taking a break because of the spread of the coronavirus pandemic across the globe in March.
The Suns improved to 33-29 to stay in the hunt for the play-in spot for two teams for the eighth and final spot for the playoffs in the Western Division between the Minnesota Grizzlies, Portland Trail Blazers and the San Antonio Spurs.
The New Orleans Pelicans and the Sacramento Kings, featuring Grand Bahamian guard "Buddy" Hield, were eliminated with their respective losses on Sunday.
The NBA announced on Sunday that the first game between the eighth and ninth place teams will take place on Saturday at 2:30pm. If the eighth seed win, they will clinch the final playoff spot. If the ninth place team win, game two between the eighth place team will be played on Sunday.
Whoever earns the berth will end up playing the conference winning Los Angeles Lakers in the first round of the playoffs, starting next week.
Despite the loss, the 76ers have already secured the sixth spot in the Eastern Division with a 42-29 record, although they didn't use any of their key players, including centre Joel Embiid, who is nursing an ankle injury and swingman Ben Simmons, who is expected to have a season-ending surgery.
Ayton, in tipping the ball off to point guard Ricky Rubio to start the game, got open for an easy two-handed slam dunk for a 2-0 Suns' lead and his highlight play. At the end of the first quarter, Ayton had four points with four rebounds, although they trailed the 76ers 27-23. At the half as they urged ahead 63-58, Ayton had added two more points and four rebounds.
By the end of the third, the Suns were up 95-90 with Ayton contributing one rebound. Ayton put in two more points and added three more rebounds in the fourth quarter. Ayton, who was drafted as the top selection in the first round pick in the NBA draft last year, will lead the Suns as they play their final regular season game at 4pm Thursday against the Dallas Mavericks.