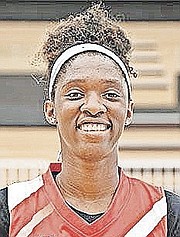 By BRENT STUBBS
Senior Sports Reporter
bstubbs@tribunemedia.net
LASHANN Higgs and the Embutidos Pajariel Bembibre PDM closed out 2020 with their 14th loss in the Professional Basketball League, just after they picked up their third victory right before Christmas day.
On Sunday, Higgs and Embutidos Pajariel Bembibre PDM suffered a 89-73 defeat at the hands of the No. 13 ranked Gran Canaria (5-13). The loss came after they won 62-49 over the No.15th ranked Socinsa Bembibre.
"We can only get back to the drawing board and keep working," Higgs told The Tribune. "We came up short, but we have to learn and build on what we have learned and focus on the next game."
The 5-foot, 9-inch shooting guard was Embutidos Pajariel Bembibre PDM's second leading scorer with 19 points in the loss to Gran Canaria. In 34 minutes, she shot 5-for-10 from the field for 50 percent; 1-for-4 (25%) from the three-point line and was 6-for-8 (75%) from the free throw line.
Additionally, she had two rebounds, an assist and a steal.
"I felt as if I had a pretty decent game," said Higgs of her performance. "I'm never really satisfied because there are always things to improve on."
Higgs, 25, was coming off a game high 18 points in their win over Socinsa. In that game, she was 5-for-12 (411.7%) from the field, 1-for-5 (25%) from the three-point arc and 2-for-4 (50%) from the charity stripe.
In playing 29 minutes, Higgs also had seven rebounds, four assists and three steals.
Embutidos Pajariel Bembibre PDM will be back in action on Sunday when they face the 11th ranked Zaragoza (6-10) in their first game for 2021 and Higgs is hoping that she can improve her performance so that she can help to turn things around in a winning streak.
"I just want to continue to improve as much as I can and soak in as much as I can to keep growing physically and mentally," said Higgs, who is in her first season as a professional after graduating from the University of Texas.
With 11 other games to play to complete the regular season on March 27, Higgs said their goal is to try to finish as high as they can in the team standings. They are currently 15th with a 3-14 win-loss record.
"I want to improve and to work on winning more games with my team," she projected. "We just have to focus collectively throughout the game."
The Harbour Island, Eleuthera native is currently averaging 15.6 points, 4.8 rebounds and 1.1 assists per game.