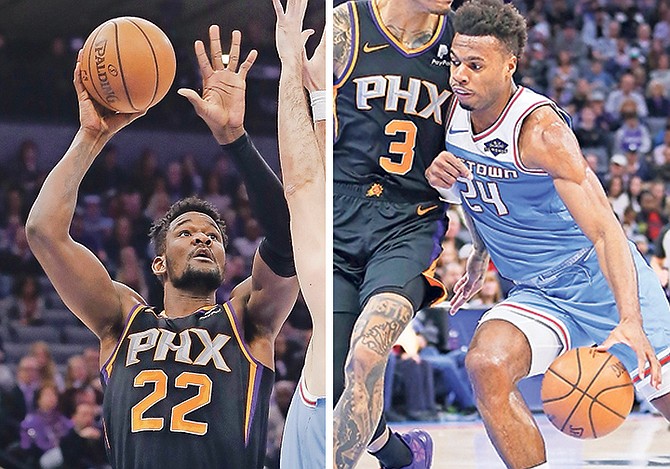 By RENALDO DORSETT
Tribune Sports Reporter
rdorsett@tribunemedia.net
For the second time in as many years, the Bahamas will have a strong presence at NBA All-Star Weekend with both Buddy Hield and Deandre Ayton were selected to participate in the league's midseason celebration.
Hield accepted an invitation to compete in the MTN Dew 3-Point Contest (February 15) while Ayton named to the roster of the World Team for the 2020 NBA Rising Stars Game (February 14), both at the United Center in Chicago, Illinois.
The complete list of 3-Point contest participants have yet to be released, but multiple sources have confirmed that Damian Lilard of the Portland Trailblazers and Trae Young of the Atlanta Hawks have also accepted invitations to compete.
Through 49 games this season, Hield is averaging 20.3 points per game and is shooting 37.3 percent from beyond the arch, making 3.8 field goals in about 10 attempts per game.
Last season, Hield made the fourth-most three point field goals in the NBA with 278, ranked No.7 all-time for a single season.
He also set a new Kings' single-season three-point field goals record when he surpassed Peja Stojakovic's mark of 240.
During that breakout season he made more three-point field goals than any other player in NBA history through their first three seasons in the league with 602.
This season, Hield has 184 three point field goal makes thus far, on track to surpass last year's total and possibly become just the third layer in NBA history to make 300 in a single season.
One of the league's sharpshooters throughout his career, Hield has made at least seven threes in four games this season, highlighted by a Kings record 11 threes in a 41 point effort against the Boston Celtics on November 25 and most recently nine makes in a January 27 game against the Minnesota Timberwolves when he scored 42.
The 26th edition of the Rising Stars game features 10 first- and second-year NBA players from the United States against 10 first- and second-year NBA players from around the world in the league's annual showcase of premier young talent.
Ayton will be joined on the World Team by Dallas Mavericks guard Luka Doncic (Slovenia), New Orleans Pelicans guard Nickeil Alexander-Walker (Canada); New York Knicks guard/forward RJ Barrett (Canada); Memphis Grizzlies forward Brandon Clarke (Canada); Oklahoma City Thunder guard Shai Gilgeous-Alexander (Canada); Washington Wizards forward Rui Hachimura (Japan) and center Moritz Wagner (Germany); Detroit Pistons guard/forward Svi Mykhailiuk (Ukraine); and Minnesota Timberwolves guard Josh Okogie (Nigeria).
Team USA features Atlanta Hawks guard Trae Young, Charlotte Hornets forwards Miles Bridges and PJ Washington and guard Devonte' Graham; Chicago Bulls center Wendell Carter Jr.; Miami Heat guards Tyler Herro and Kendrick Nunn; Memphis Grizzlies forward Jaren Jackson Jr. and guard Ja Morant; and Golden State Warriors forward Eric Paschall. Pelicans forward Zion Williamson, was selected by the NBA as the replacement for the injured Carter.
Ayton is one of four World Team players who participated as campers in Basketball Without Borders (BWB), the NBA and FIBA's global basketball and development community outreach programme. Others include Barrett (BWB Global 2017), Hachimura (BWB Global 2016) and Gilgeous-Alexander (BWB Global 2016).
It will mark the fourth time a Bahamian player made an appearance in the game following Buddy Hield's selections in 2017 and 2018.
NBA assistant coaches selected the Rising Stars rosters, with each of the league's 30 teams submitting one ballot per coaching staff. A ballot consisted of four frontcourt players, four guards and two additional players at either position group for each team.
Voters also had to choose a minimum of three first-year NBA players and three second-year NBA players for each team. Coaches were not permitted to vote for any player on their team.
At last year's All-Star Weekend in Charlotte, North Carolina, Hield fell short in his bid to win the title in his debut.
He reached the championship round but finished third behind second place finisher, Stephen Curry of the Golden State Warriors and eventual champion, Joe Harris of the Brooklyn Nets.
The third year Kings guard brought fans to their feet with his 26 points in the first round, which took topped the leaderboard ahead of Harris (25) for a brief moment before Curry made 27.
Hield posted 19 points in the championship round while Harris topped the field with 26 and Curry finished with 24.
Also in Charlotte, Ayton made his NBA All-Star Weekend debut with 15 points, eight rebounds and five assists but his Team World lost 161-144 to Team USA.
In addition to the Rising Stars, Ayton was one of three NBA players selected to coach top international prospects at the 5th Basketball Without Borders Camp which hosted the top 63 high school aged boys and girls from 31 countries and regions.