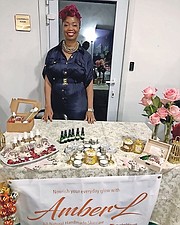 By ALESHA CADET
Tribune Features Reporter
acadet@tribunemedia.net
As someone with sensitive skin, Mechelle McDonald-Sweeting has been through many moments of trial and error in an effort to understand what works well for her skin and what doesn't.
She has learned to understand her skin and its needs, as well as its irritants, which helped her in identifying the best products for her. She told Tribune Health that she has always been keen on knowing the exact ingredients of anything she consumes, so doing the same for skincare was easy. With this knowledge she wanted to make it easier for others as well, hence the launch of her AmberL Skincare line.
"AmberL is about helping persons to feel more comfortable in their skin, which in turn, helps to improve their quality of life. Many persons are ashamed or embarrassed by discolouration due to flares, dry itchy skin, or skin that doesn't fully heal due to their ailment. This has an impact on their self-esteem, confidence and affects those closely around them," she said.
"Believing that natural is best, AmberL was created to aid those who had sensitive skin or skin conditions, by lessening the trial and error aspect of skincare products and help them to identify which essential oil blend works for them. These products also making caring for their skin easier and with fewer side effects," said Mechelle.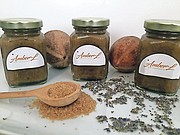 The brand based in New Providence and currently offers whipped body butters, body scrubs, rose water and bath teas. For special events, gift baskets are also available. Mechelle said the line of products uses a unique combination of natural ingredients and pure essential oils to promote holistic skin healing in two facets: daily skin nourishment, repair and relief for dry or inflammatory skin conditions such as eczema and hidradenitis supperativa (HS).
"Skin health is important, and with skin being our biggest organ, it's essential that we use products that aid in its protection, revitalisation, healing and overall appearance," she said.
Her body butters, for example have anti-inflammatory and anti-fungal properties, she said. "Our rose water is a natural facial moisturiser that contains antioxidants, anti-aging properties, balances pH and revitalises skin. Lastly, the blends of essential oils help with restlessness and decongestion as well as overall skin appearance, while the bath teas detoxify skin and provide a soothing effect to stressed skin."
Since launching AmberL, Mechelle said she has learned a number of things. One being the power of networking with other business owners and how easy it is to learn from each other. She has also learned how her products can have a positive impact on others, and the importance of fine-tuning her craft.
She hopes for increased product availability through the help of exporting and wholesale vendors, as well as in-office services and consultations. AmberL will also continue to be present at events throughout the year such, including pop-ups and expos.