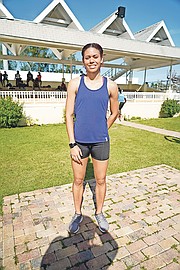 SASHA Wells continues to dominate the indoor season of Summit League Track and Field and was recognised once again by the conference for an outstanding performance.
Wells was named the Summit League Female Track Athlete of the Week for the third time this season as announced by the league office this week.
Last weekend at the fifth annual Indoor Gorilla Classic, Wells won the 60m hurdles in 8.30 seconds. She tied her own Eagles record set earlier this season. She was also fourth in the 60m in 7.52 and fourth in the 200m in 24.47.
The junior sprint hurdler clocked the league's best time in both the 60m hurdles and the 60m, as well as the second-fastest mark in the 200 metre dash.
In her first Summit League award this season, Wells opened her season with three top-3 finishes, including one event title at the Bob Timmons Challenge on December 6 in Lawrence, Kansas.
She won the 60m hurdles with a time of 8.43 and finished just .02 seconds shy of her own Oral Roberts and Summit League record.
She followed with a second place finish in the 60m in 7.63. She concluded her meet, finishing the night as a member of the 4x400m that finished third in 3:56.22.
She earned her second conference award following the Mark Colligan Memorial on January 25, in Lincoln, Nebraska.
She won three of the four races and finished the meet with two individual event titles.
She clocked the second fastest 60m hurdles prelim time of 8.40.
Less than 30 minutes later she ran the fastest 60m prelim time of 7.54.
In the finals, she demolished her school record, winning the 60m hurdles in 8.30, before ending the night running a personal best 7.51 to win the 60m dash.
Wells continues her momentum from her standout sophomore season when she was named the Summit League's Indoor Track Athlete of the Year. She became the first Golden Eagle in conference history to achieve the honour.
A season of milestones was highlighted by her performance at the 2019 Summit League Championships where she was named MVP after earning a total of 26 points.