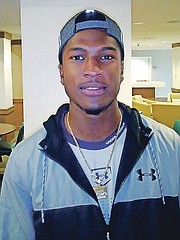 By RENALDO DORSETT
Tribune Sports Reporter
rdorsett@tribunemedia.net
ANTOAN Richardson is already having an impact in the Giants clubhouse while Lucius Fox has shown his versatility at a new position in Major League Baseball Spring Training.
Richardson began his career as a first base coach with the Giants and after the team's first few Spring Training games, his influence on the team's base-running has been an early storyline.
In addition to the first base coach, his duties also include lead outfield and base running coach respectively.
The Giants posted a whiteboard in their clubhouse at Scottsdale Stadium which recognises the "baserunning BOSS" from each game.
Alex Pavlovic of NBC Sports said Giants manager Gabe Kepler has credited Richardson for the team's emphasis on leads and turns this spring in an effort to gain the edge on the basepaths. "We really want them to push the envelope," Kepler said.
Richardson wears No.00 on his jersey, an ode to his grandmother, Bahamian icon and women's rights activist Dame Albertha Isaacs.
"The reason why I'm 00 is simple, my great-grandmother was born in 1900 and I think it was going to be a great honour to pay tribute to her and just my journey in life, '' Richardson told Janie McCauley of the Associated Press.
He only acquired the number after getting the blessing from former Giants outfielder Jeffrey Leonard who wore the number in the 1987-88 season. ''I definitely have to mention HacMan Jeffrey Leonard because he's the original double-zero, so getting his blessing was really important to this process,'' Richardson said. ''So very thankful for him."
Richardson served as a first base coach for the Giants for a single game last June in their 5-3 win over the Milwaukee Brewers.
Regular first-base coach Jose Alguacil was away from the team attending his son's graduation, and the Giants rewarded Richardson with the call-up.
On the field, Fox played his first game as a professional in centrefield, as opposed to his traditional spot in shortstop. In 3,125 career innings in the minors, Fox had never played the outfield. "First game ever. It was kind of weird," he told Rays Radio, "There's a lot of space out there. It's a lot further away than shortstop. I can see how guys get easily distracted out there, it feels like you're so far away from the game. I tried to pay attention as much as possible and I was hoping I got my first ball but no balls came to me.
Fox said the team approached him in the offseason about playing the outfield based on his versatility as a utility option.
"In the offseason the Rays called me and discussed some different things that they were thinking, just expanding my versatility. We have a very versatile team, guys that can play multiple positions. It's just a way for me to help the big league team win at some point. We have a lot of young infielders, a lot of young outfielders also just working on different positions," he said.
"I took one day of drill work and to see that I was in the game that quickly kind of surprised me but I know I'm really athletic and I'm up to the challenge."
In their latest outing, Fox was back at shortstop and drove in one RBI in the Rays' 10-8 loss to the Minnesota Twins.