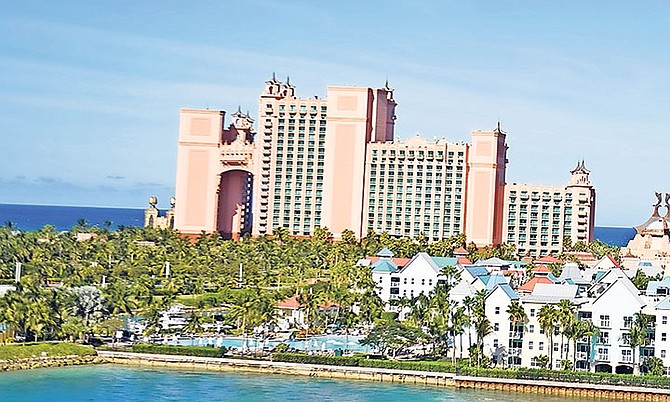 FOLLOWING the University of Michigan's recent victory over Gonzaga University, Atlantis, Paradise Island resort has announced that Bad Boy Mowers will continue as title sponsor, through 2022, for the highly-anticipated early season collegiate basketball tournament, Battle 4 Atlantis.
Scheduled to take place November 25-27, 2020, the next Bad Boy Mowers Battle 4 Atlantis tournament will feature 12 games with top NCAA teams including Creighton, Duke, Memphis, Ohio State, Texas A&M, Utah, West Virginia and Wichita State.
"We couldn't be more excited to continue to sponsor a tournament of this calibre," said Lennie Foree, director of marketing for Bad Boy Mowers.
"The entire organisation, from the event's planners and organisers to the Atlantis, Paradise Island resort, is world-class at every level. Being the first title sponsor in its history makes it even more special."
Audrey Oswell, president and managing director of Atlantis, Paradise Island, welcomes the tournament back to its property.
"We're looking forward to continuing our partnership with Bad Boy Mowers through 2022," Oswell said.
"Over the past three years, Bad Boy Mowers has worked with our team to elevate and enhance Battle 4 Atlantis.
"Like our resort, they are dedicated to the sporting world and its positive impact on tourism and the local community.
"As partners, we are excited to continue to create lifelong memories for the teams, fans and guests who come out to support the annual tournament."
Celebrating its 10th year of elite collegiate tournament play this November, the Bad Boy Mowers 'Battle 4 Atlantis' is known for being the most talented and challenging of all the Division I men's early-season college basketball tournaments.
The tournament takes place during the week of Thanksgiving in Atlantis, Paradise Island's Imperial Ballroom, which is transformed into a premier basketball arena for the events.
Games are televised on ESPN networks throughout the tournament.