By ALESHA CADET
Tribune Features Reporter
acadet@tribunemedia.net
For the last five years, the team at Girl on Pole as been giving Bahamian women a new way to stay fit and exercise. The dance studio, which not only teaches people how to pole dance, but seeks to help women boost their self-confidence and feel sexy in a judgement-free environment, is once again hosting a special event for Valentine's Day.
This will be the second annual "Galentine's" event, set for Friday, February 14 at the studio's location on Dowdeswell Street, beginning at 8.30 pm.
"Girl on Pole is the sole organiser for this upcoming event and it's an event we are extremely proud of," said fitness professional and studio owner Raphaleta "Raphy" Adderley.
"Our parties are always known to be fun and extremely unconventional. Last year's Girl on Pole Galentine's goers got the pleasure of enjoying the entertainment of a couple's lap dance and pole dance performance by myself, and an unforgettable raw and honest Q&A from a panel of men who minced no words when it came to dishing out the information on what Bahamian men really want."
For this year's event, Raphy is looking forward to taking it up a notch with more entertainment, prizes, activities, dance performances, and surprises.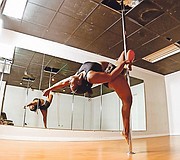 "I don't think my queens know what they're in for this year, but we're on the roll...(trying) to impress each and everyone who attends this event on Valentine's Day. We've taken a more hype approach this year just to focus on pure fun and entertainment. Expect live demos of twerking and chair dance; our signature drinks will be flowing, definitely a DJ to get the vibes right, and more surprises throughout the night. Needless to say, what happens at GOP stays at GOP," she said.
And while many consider Valentine's Day to be solely for couples, Raphy thinks it is also the ideal occasion to promote self-love.
"We're serious about love day; this is a day for us to promote self-love and a classic evening of girls just wanna have fun," she said. "Self-love is greater than any other love, and the ability to celebrate with friends and like-minded people in a fun and safe atmosphere is equally important as well. No woman will have to sulk in loneliness because they aren't celebrated this Valentine's Day. We'll be celebrating ourselves as we are – whether we are fat, skinny, dark or light-skinned, tall or short – we get to celebrate ourselves. The ability to celebrate and love oneself is beneficial for any woman. Fun and laughter are good for the soul and we are here to ensure that our ladies receive just that," she said.
"My tip for anyone joining us this year is to prepare for the fun and remain open. Girl on Pole is known to be a bit extreme when it comes to fun and entertainment, we are a judgement-free studio and we'd like our event to be the same as well. Most of what we have planned is intended to be a surprise for our queens, so I can't mention much on this, but thousands of Bahamian women have participated in events, pole parties, classes, and private parties, or maybe they follow us on social media. So I'm sure they know what to expect from us if they've partied with us or seen us in action before."
Raphy said her overall goal is to not change people's perceptions of pole dancing, it is simply to teach it as a form of fitness art. Travelling to pole studios all over the world, even as far as Milan, Italy, Raphy has seen how pole exercises can relax a person. It was at a pole convention abroad where she became certified as an instructor.
To find out more about 'Galentine's Day', check out Girl On Pole Dance Studio on Facebook or Instagram, or WhatsApp 801-1069.