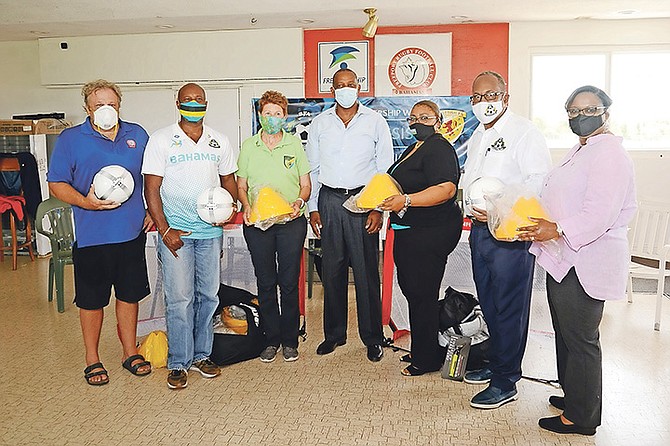 Whether you call it soccer or football, the game has gained a reputation as one of the world's most popular team sports. With a history that dates back some three thousand years, football is played by 250 million players in over 200 countries - including The Bahamas.
On Grand Bahama Island, and throughout the country, the Bahamas Football Association has led the charge in making the game widely accessible to hundreds of young athletes.
Founded in 1967 the organization has welcomed men, women, and children interested in the sport and became officially affiliated with FIFA in 1968. 
In its 53rd year, The BFA continues to serve as the nation's official football federation and as part of its mandate, has built a platform of inclusion that allows its members access to resources from around the world. 
In late August 2019, the Bahamas Football Association (BFA), under the leadership of Anton Sealey, formed a partnership with the Scottish Football Association (SFA). 
Under this partnership,  and with the approval of UEFA Assist,  the associations designed a cohesive programme to provide developmental, technical support, and coaching education and for players in The Bahamas.
Unfortunately, the passage of Hurricane Dorian in September quickly sidelined the initiatives planned. Determined to lend its assistance; however, the Scottish Football Association shifted its focus to meet the immediate needs of local athletes. 
"We were so moved when the team from SFA inquired about ways they could assist our islands in the wake of the storm," said BFA Deputy General Secretary, Carl Lynch.  "We agreed that equipment would be the highest priority in rebooting the grassroots programmes in Abaco and Grand Bahama."
The work of ordering and shipping began immediately but sadly was hindered by restrictions imposed as a result of COVID-19. As restrictions have relaxed, both the BFA and SFA have worked to solidify all the elements of its assistance programme.  
"We're happy to announce that the shipment of donated equipment has arrived on Grand Bahama Island and today is being made available to players through the various summer sports programmes," Lynch explained.
During a press conference held on Grand Bahama this week, representatives from the Freeport Rugby Football Club, The GB Soccer Club, and the GB Secondary and Primary School Athletic Association received donations that included proper metal large, medium and small goals, training pop up goals, flags, sports bags, cones, and new footballs. 
The donations will be immediately followed up by assessments to determine how additional resources can be provided to help get the various football (soccer) programmes back on track.
"Our association is so grateful for this wonderful donation for our schools and our football programme," said Gia Walker, President of the GB Principal and Vice-Principal Association. 
"Our programmes have progressed so far but were wiped out by Dorian and have now been curtailed by COVID-19.  We hope that this equipment will allow our season to kick into full gear when school resumes."
In the coming weeks, The Bahamas Football Association will also expand its work their Scottish partners on the development of the BFA Center of Excellence based in New Providence. 
The initiative was also unveiled at the press conference will recognise top-rated male and female players in the country,  providing them with additional selection opportunities for national and international teams. The programme will work to encourage athletic excellence while teaching character building and life skills as well.
"Again, due to the impact of COVID 19, we had to cancel the  Samuel P. Haven Jr. High School Soccer Nationals," explained Anya James, BFA Executive VP.
"We are looking to have all our programmes back up and on track by the start of the school year, as well as national and international games playing as soon as possible – but this will be dependent on COVID regulations and social distancing necessities."
The donation from SFA is estimated to have cost over $40,000 dollars and was shipped by Skyway Shipping Solutions and stored for free by Freeport Ship Services in Grand Bahama.  
Speaking to the media about the donation Robert Spellor, FRFC President was thrilled to receive and help facilitate donations in GB. "This will get our club back on track for our football teams, camps and ongoing programmes" noted Spellor. 
"We have spent the last ten months repairing our club, rebuilding our pitch, and we had lost most of our equipment. So, our huge thanks to SFA, UEFA Assist  and our own BFA who are making it possible for us to keep our regular programmes on course."