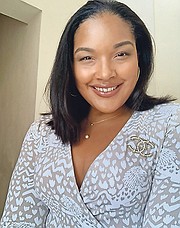 By ALESHA CADET
Tribune Features Reporter
acadet@tribunemedia.net
In this uncertain climate, with unpredictable social, financial and health outcomes due to the COVID-19 pandemic, Peteché Bethell feels women need support and encouragement more than ever. But even more importantly, she feels the Bahamas needs women to help the country recover from the financial and economic setbacks it is currently experiencing.
Ms Bethell knows the valuable contributions women can make to society because she grew up with great female role models. After her father died of cancer when she was six years old, she was raised by her mother and mentored by other strong women in her community.
"I was raised amongst the most strong and powerful women in the Bahamas, who made ground-breaking decisions and defeated societal norms of what a woman could do and who a woman could become. Those women equipped me with the confidence, tools and notions to advance academically and professionally. Being raised by such a brilliant cohort of role models is a privilege that not many young girls receive," she told Tribune Woman.
Her life experiences ultimately led her to create the Power Passion Purpose Project (P3), which seeks this unite, inspire and connect different generations of Bahamian female leaders and game-changers.
To achieve this goal, the project has a three-tier system, she explained. There are the protégés; young women in senior high school, then there are the young professionals and university students, and lastly there are the leaders; successful women from various sectors and industries.
"At present, the organisation has a network of 40 mentors and more than 50 professional partners who possess a wealth of knowledge from various fields, including finance, education, agriculture, medicine, business, law, the arts, communications and more. Collectively, we believe that for the Bahamas to thrive in the aftermath of the global pandemic, female voices must be heard, and their contributions acknowledged. It is our mission to learn from those who have broken the glass ceilings before us, while listening to and acting upon the ideas of those emerging behind us," said Ms Bethell.
While bridging the gap between modern and traditional approaches to life, Ms Bethell said she and her team members seek to empower young women who are presently enrolled in or are recent graduates of senior high schools throughout the Bahamas. The aim is to provide support and advice that will assist them with navigating their education, careers, finances and womanhood.
"We intend to do so by providing year-long, one-on-one mentorship, internship opportunities and scholarships. With support from our sponsors, we will also host workshops, summits and interviews with notable Bahamian professionals," she said.
P3 has planned several virtual events for the Summer. These include a series of Instagram Live interviews via @powerpassionpurposeproject, which will run until August 20 and that will lead up to the P3 virtual Empowerment Summit during the last week of August. This summit, scheduled for August 24-29, is open to young women in grades 10 - 12 and immediate graduates of high schools.
The protégé exclusive event offers 40 places to senior high school students with a GPA of 2.5 or above who have committed to their communities by undertaking various charitable and extracurricular activities. All sessions will be led by professional Bahamian women and will last no more than three hours each evening during the week and on Saturday morning. Applications for the virtual summit and mentorship scheme will be accepted until Saturday, August 1, at 10am and are available by contacting powerpassionpurposepro@gmail.com.
The summit will focus on topics of self-development, and well-being and etiquette, as well as on financial management and entrepreneurship, job preparation, art, culture, media and philanthropy.
Following the event, protégés will work in groups of five alongside their mentors for one week to create a product and produce a marketing strategy which encapsulates a lesson learned or solves a problem identified during one of the summit sessions. They will then pitch their idea to a mixed panel of business professionals and sponsors at the sward ceremony on September 5.