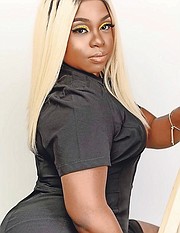 By JEFFARAH GIBSON
Tribune Features Writer
jgibson@tribunemedia.net
Age should never be a barrier to you fulfilling your dreams. This is the firm belief of Marissa Coakley, who at age 22 is not only a young mother, but also a successful business owner and now an author.
She's written a book called "She's Means Business" to help other young Bahamian women find their feet in entrepreneurship and to offer advice on how to navigate the highs and lows of striking out on your own.
Marissa told Tribune Woman that although starting a business is a difficult undertaking, she's proof that is does not have to be an unreachable dream.
She knows there are many women her age who have great business ideas, but know where to start or how to establish themselves. In the book, she talks about how she went about creating the ContourMe Body Studio, which offers such services as butt lifts, lip repairs, and laser lipo, among other non-invasive body sculpting methods.
"My journey to establishing my business wasn't easy. When you're a new entrepreneur, coach, or business owner, it can be hard to stay motivated. Frustration sets in when you don't know what steps to take for your dreams to come true. I totally get it. I started off just like you. I had zero knowledge of running an online business, how to grow a social media following or how to make money. I didn't have a business degree or any formal training, which made me fear going after my dreams. I endlessly wished life could be different than it was after being stuck in a corporate retail job. I was trapped and depressed. I figured it out though and I want to share with you how I did it. A life of freedom and getting to do what you want when you want is very possible for you," she said.
Even after coming up with the idea for her business, Marissa said she did not quit her minimum wage job right away. Instead, she set herself a savings goal and outlined a plan.
"I reminded myself daily the amount of money I needed to save. I sacrificed things I wanted that were too costly. After saving enough money, I signed up for a course in body sculpting and non-invasive procedures. This was it; I became certified and purchased my first machine. At this moment, ContourMe Body Studio was born," she said.
"Following the successful launch of my company, I knew I wanted to run this business full time. I had absolutely no interest in wasting anymore of my time at my 9-5, which restricted my creativity and passion. Eventually, I quit my job to focus solely on my business."
As passionate as Marissa is about her business, she is also passionate about helping fellow aspiring entrepreneurs.
"I have a passion for entrepreneurship. I have many role models and I aspire to and that's what made me write my book," she said.
The big help for getting her business off the ground, she said, was not only setting goals, but writing them down as a tangible reference of what she had to focus on to achieve her dream.
"The overall message is to teach entrepreneurs that being a business owner is not easy, but if you want it do there is a way to go about doing so. Also, a lot of business owners need guidance on becoming a successful business owners. There are some entrepreneurs that do not have a clue about being a boss but and are just recycling money," she said.
Marissa said she does not wish to be a "hoarder of information" and believes that helping other entrepreneurs will also help build communities.
"It is important to share this information because entrepreneurship is becoming a trend and I'm happy to help my generation with the knowledge they need," she said.
"She Means Business" is available on Amazon.