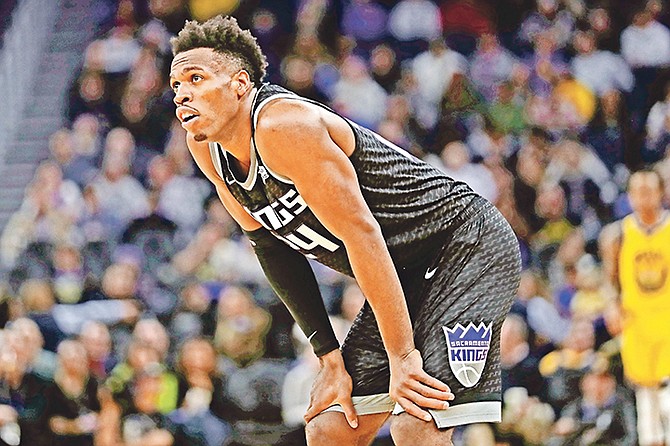 By RENALDO DORSETT
Tribune Sports Reporter
rdorsett@tribunemedia.net
Chavano "Buddy" Hield showed little signs of rust in his return to action as the Sacramento Kings made their debut in the NBA 2019-20 season restart.
Hield finished with a team high 19 points off the bench in the Kings' 104-98 loss to the Miami Heat at the HP Field House at the Disney Wide World of Sports Complex in Orlando, Florida. He shot 8-16 from the field, 3-10 from three-point range and also added five rebounds in just over 24 minutes.
The Kings return to the court for their second of three scrimmages July 25 against the Milwaukee Bucks. The third scrimmage will be July 27 against the Los Angeles Clippers.
They begin the official seeding games when the season officially resumes on July 31, when they will face the San Antonio Spurs.
The remainder of the Kings' schedule includes matchups against the Orlando Magic (August 2), Dallas Mavericks (August 4), New Orleans Pelicans (August 6), Brooklyn Nets (August 7), Houston Rockets (August 9), Pelicans (August 11), and Los Angeles Lakers (August 13).
Hield cleared all COVID-19 protocols and joined the remainder of the Kings in Orlando last week. He was one four Kings players to test positive in June as league-wide testing began in preparation for its return to the court.
He noted that he experienced just mild symptoms of the disease after he tested positive, but was more concerned with the well-being of his close friends and family members.
"I wasn't scared or nothing like that," Hield said to reporters following his first practice session in Orlando. "I tested positive and I was just concerned for the people around me like my daughter and my girl and my family. I didn't want nobody getting infected by it, Hield said.
"I didn't want my carelessness causing someone to lose their life or something like that. So, I was warning people I was around."
Through 64 games this season, Hield is averaging 19.8 points per game and is shooting 40 per cent from beyond the arc, making 3.8 three-point field goals in about 10 attempts per game. Hield also added 4.8 rebounds and 3.1 assists per game.