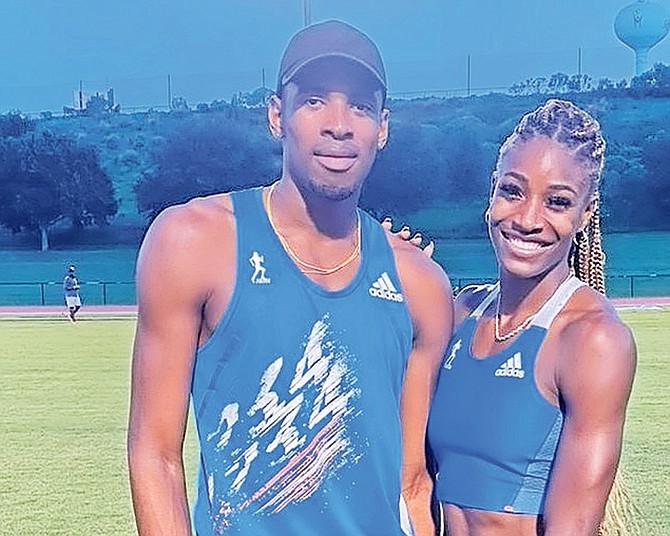 By BRENT STUBBS
Senior Sports Reporter
bstubbs@tribunemedia.net
HE won his heat, but Bahamian world 400 metre champion Steven Gardiner produced his fastest 200m opener ever to finish in second place overall in the timed final of the men's 200 metres at the Back to the Track: Clermont Series.
Competing in his third meet for the year following the resumption of track and field after taking a three-month break due to the coronavirus pandemic, Gardiner posted a time of 19.96 seconds to win the second of four heats at the National Training Centre in Clermont, Florida.
"I felt pretty good about it," said Gardiner about the race. "My start was okay, not the best. It's something we have to work on. But coming off the curve, I was super fast. On the straight away, I was also super fast.
"My body felt great and so overall it was a good race. I just felt that my start could have been a little bit better."
However, American Noah Lyles posted the fastest time in heat one in 19.94 for the victory in the two-day meet. It was Noah's second victory after he sped to the finish line in a wind-aided 9.93 in the 100m over Canada's Andre DeGrasse of Puma in 9.97.
Estonia's decathlete Maicel Uibo, the husband of Bahamian Shaunae Miller-Uibo, also contested the 100m, placing 13th overall in 11.30.
Miller-Uibo secured a double dose of victory in the women's 100 (10.98) and 200m (21.98) at the meet. "I'm happy for her. She deserves it," said Gardiner of Miller-Uibo's achievement. "She's been working really hard. We talked about things and I'm just happy to see she actually ran 10 seconds in the 100m."
Despite not being declared the overall winner, Gardiner said he and his coach Gary Evans were quite thrilled by his effort.
"The next one should be better," said Gardiner, who intends to run in a 150m in his next race, followed by another 200m as the unusual track season swings into full gear.
It was Gardiner's first normal race for the year, coming off his Bahamian national record-breaking feat at the V12 Summer Games where he won in 31.83 to erase Chris 'Fireman' Brown's previous mark of 31.91 that he posted in Osaka, Japan, in 2007.
Gardiner's time was posted as the fastest for the year and 23rd on the world's all-time list.
The previous weekend, the lanky 6-foot, 5-inch Gardiner came out with a victory in his season opener in his first 300m at the B3R Sports Invitational in 31.95.
In addition to now holding the Bahamas' national record in the 300m, Gardiner's name is also on the men's 200m time of 19.75 that he ran at the Hurricane Alumni Invitational in Coral Gables, Florida, on April 7, 2018 and the 400m (43.48) that he established in winning his world title in Qatar on October 4.
At some point, Evans said Gardiner intends to pursue Brown's national 800m record of 1:49.54 that he created at the Central American and Caribbean Games on August 17, 1998 in Maracaibo, Venezuela.
Kinard Rolle, now a training partner of Gardiner, was scheduled to compete in the 200m in Clermont, but he didn't start the race.
Rolle, a former St Augustine's College 400m specialist, just recently graduated from Purdue University.
As for the safety measures at the meets in wake of the precautions of Covid-19, Gardiner said there are no spectators in the stadium, but because they can view from a hill, they watched from their cars.
He noted that the athletes are required to sign a waiver form denying any legal action against the meet promoters and they have to get their temperature checked before they are allowed to enter the stadium to compete.