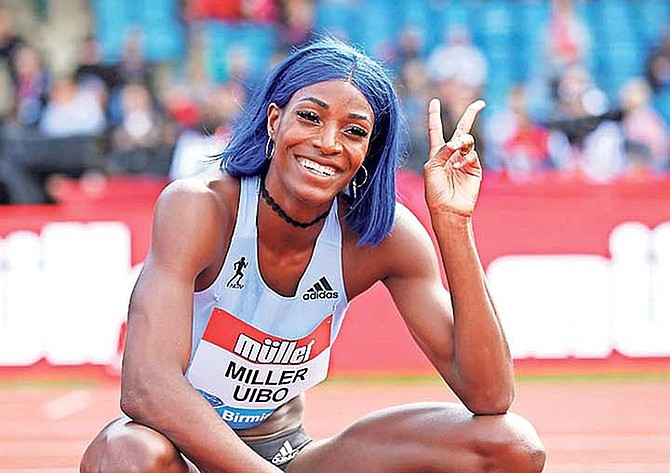 By RENALDO DORSETT
Tribune Sports Reporter
rdorsett@tribunemedia.net
As World Athletics seeks to return to a state of normalcy, an innovative new approach will feature some of the biggest names in the sport competing remotely, including Shaunae Miller-Uibo.
The reigning Olympic 400m champion and Diamond League 200m champion will compete against her chief rivals from their respective locations in an exhibition series as a part of the 'Weltklasse Zurich Inspiration Games on July 9.
In just under a month, Miller-Uibo, Allyson Felix of the United States and Mujinga Kambundji of Switzerland will race against the clock simultaneously in the 150m from their respective locations.
Miller-Uibo will race out of Miramar, Florida, while Felix - the six-time Olympic champion - will race from Walnut, California, and Kambundji competes in Zurich, Switzerland.
In addition to her signature events, Miller-Uibo has been a world leader in the 150m in recent years at the Adidas Boston Games. She won the event in 2018 in a time of 16.23 seconds, a record time performance on a straight track. Miller-Uibo repeated as the 150 metre champion at the 2019 event in 16.37.
The Inspiration Games are a part of the Wanda Diamond League. The games, a live team event, will feature dozens of athletes competing simultaneously in different venues across the globe. The format is a partnership between World Athletics, the Wanda Diamond League, Swiss Timing and broadcaster SRG SSR.
"Thirty track and field superstars compete across eight disciplines in an innovative team event spanning seven stadiums and three continents. The aim is not only to provide live sport for athletics fans across the world, but also to inspire the next generation," World Athletics said.
Karin Nussbaumer, SRG SSR's national coordinator added: "To simultaneously broadcast three different venues in each discipline will certainly be a technical challenge. Time delays will have to be corrected so that everything is synchronised for the viewer. It is highly demanding to organise such a broadcast."
World Athletics reopened its headquarters this month after the COVID-19 pandemic forced its closure for 11 weeks. The new competition format featured in the Inspiration Games emerged as just one of its strategic measures moving forward.
"Our head office may have been closed for 11 weeks but we have not been idle," World Athletics President Sebastian Coe said following a meeting with its 14-member federations. "We have used that time to continue to develop our strategy to grow athletics. A huge amount of work has been put into developing our four-year strategic plan, led by our CEO Jon Ridgeon and with input and involvement from all at HQ, our Executive Board, our Area Presidents, Commission Chairs and Commissions. This is an exceptional body of work that brings together all the great things we do as a global sport body with a laser sharp focus on doing it better, and includes some innovative and creative ideas to drive growth in our sport. It is exactly the type of roadmap our sport needs to bring together all our stakeholders with a single vision, mission and clear priorities."