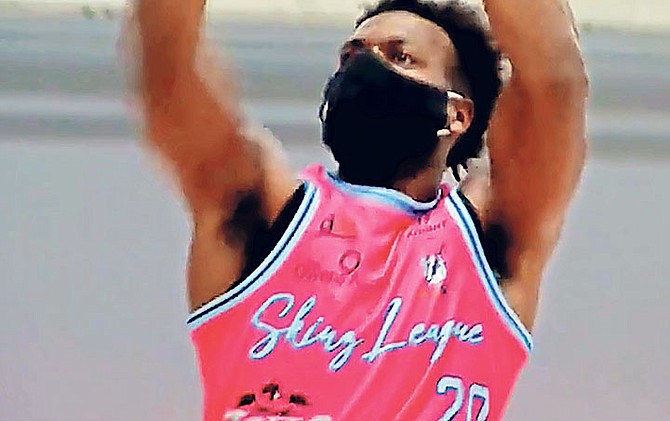 By RENALDO DORSETT
Tribune Sports Reporter
rdorsett@tribunemedia.net
Chavano Rainer 'Buddy' Hield returned to the basketball court for competitive play for the first time since the COVID-19 pandemic sidelined the NBA.
The Sacramento Kings sharpshooter participated in the Skinz League Tournament at the Hive Sports Complex in Edmond, Oklahoma, as the NBA nears its imminent return.
Hield scored 45 points, including 13 made three pointers, and led his "Pink Parrot" team to an 82-72 win.
Amateur basketball has resumed in several states that have progressed to their phased re-openings, therefore summer leagues like the Skinz League are off to an early start.
League founder Chris Skinner began the tournament five years ago and he estimates that approximately 90 per cent of the league's 160 players played college basketball.
Around 25 per cent are professional players from overseas, the G League or the NBA. This year's appearances from NBA players have been highlighted by Hield and Atlanta Hawks guard Trae Young. Both played collegiately for the Oklahoma Sooners. Oklahoma City Thunder wing Darius Bazley also competed in this year's tournament.
"If you know anything about the basketball world, if one player's doing it, the other players will do it," he told Sports Illustrated. "So if I get one big-time player, it's kind of like now, people see Trae [Young] playing, so now I'm getting calls all the time about this guy's trying to play."
In just over a month, Hield and the Sacramento Kings will return to the court at the NBA level as the league prepares to return to its 2020 season on July 30.
The league's board of governors approved a proposal for the NBA to resume play in Orlando, Florida, featuring the 16 teams currently in playoff position and eight teams currently within six games of 8th place in the two conferences. All games will be hosted at the Walt Disney World Resort.
Teams will officially begin training at team sites in July and will advance to full training camps in Orlando prior to regular season play. The Kings are 28-36 - No.10 in the Western Conference and 3.5 games behind the No.8 Memphis Grizzlies (32-33).
The NBA has suspended its season since March 11, when Utah Jazz centre Rudy Gobert was the league's first player to test positive for COVID-19.
Through 64 games this season, Hield is averaging 19.8 points per game and is shooting 40 per cent from beyond the arc, making 3.8 three-point field goals in about 10 attempts per game. Hield also added 4.8 rebounds and 3.1 assists per game.
Hield started 44 of those games and was moved to the bench on January 24 and has continued his production post-All-Star break after he won the Mountain Dew 3-Point Contest at NBA All-Star weekend last February.
This season, Hield has 244 three-point field goals thus far.
He was on track to surpass last year's total of 278 and possibly become just the third player in NBA history to make 300 in a single season.