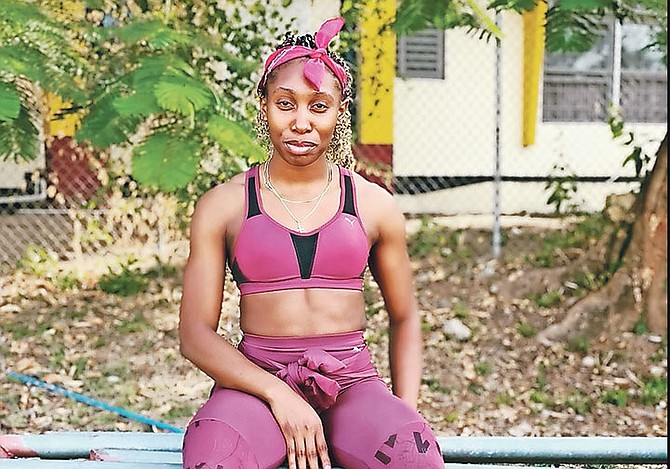 By BRENT STUBBS
Senior Sports Reporter
bstubbs@tribunemedia.net
Although she has not gotten the ultimate desire expected in the three years she has been training there, Bahamian sprinter Anthonique Strachan feels she's in the right place training with some of the world's best in Kingston, Jamaica.
"For me, everything has been what it was during the offseason," Strachan told The Tribune. "We don't usually train on the track all year round. We usually train on the grass first and then we go to the track.
"We were on the track earlier this year and then the coronavirus came and the facilities shut down. We went back to the grass and we stayed there until last week when they opened the track again."
In Jamaica, Strachan is training in the Maximising Velocity and Power (MVP) Track and Field Club, which includes female Olympic and world champions Shelly-Ann Fraser-Pryce and Elaine Thompson, along with male sprint sensation Asafa Powell.
"In this atmosphere, training wise, this is the best thing for me because Elaine and Shelly-Ann are the top two active sprinters in the world, time wise, so they should help me to get to where I need to be."
The 26-year-old Strachan got off to a budding career as a student of St Augustine's College, capping off a dominating CARIFTA sting, winning both the 100 metres in 11.22 seconds and the 200 in 22.85 (a meet record) in the under-20 girls' division in 2012 in Hamilton, Bermuda. That earned her the Austin Sealy award as the most outstanding athlete of the top regional junior track and field competition.
Strachan went on to duplicate the double sprint feat at the 2012 IAAF World Junior Championships in Barcelona, Spain and in November, she was the recipient of the IAAF's Female Rising Star award at their gala awards banquet in Morocco.
Having produced a lifetime best of 11.20 in the century at the meet in Barcelona and 22.32 in the half-lap race in 2013 here at home at the Bahamas Association of Athletic Associations' National Championships, Strachan had to endure a series of nagging injuries.
During those recovery periods, Strachan still managed to represent the Bahamas at the 2015 Pan American Games in Toronto, Canada, the 2016 Olympic Games in Rio de Janeiro, Brazil, the 2018 Commonwealth Games in the Gold Coast, Australia and the World Championships in Doha, Qatar, last year.
She secured her first major international medal when she ran the third leg of the Bahamas' mixed gender 4 x 400m relay at the third IAAF World Relays at the Thomas A Robinson Stadium in 2017 alongside Shaunae Miller-Uibo, Stephen Newbold and Michael Mathieu.
Through her sponsorship of Puma, Strachan made the trek from Auburn, where she trained under Bahamian coach Henry Rolle, to Jamaica where she said she's delighted to mix and mingle with the rest of the athletes, some of whom represent Nike, in one big happy family.
"In order to be the best, you have to train with the best because iron sharpens iron," said Strachan, who is recovering from her latest injury - a grade two hamstring tear from the World Championships last year.
"So I'm happy to be here in Jamaica training under Paul Francis with this talented group of athletes. It's best as usual here. There's no real favouritism. As big as the club is and with so much stars in the club, coaches Steven and Paul Francis correct everyone. Their assistant coaches help everyone."
While there's some uncertainty about the rest of the season due to COVID-19, Strachan said if the opportunity presents itself for her to train, she will take advantage of it. But if it doesn't work out, she will just focus on getting ready to compete at the 2020 Olympic Games, which has been postponed until July 23 to August 8, 2021 because of the coronavirus.
"I would like to leave 2020 with some funding," said Strachan about competing before the year is done. "With the conditions here, I feel there is a chance to compete in a meet even if I don't get to do one overseas. "But as for the Olympics, I had mixed emotions about it being postponed. As an athlete, I didn't believe that they postponed it, but as a person, I realise that this is beyond sports. This has affected persons around the world. So precautions had to be done, but as an athlete, I visualised competing in the Olympics, now I have to wait until next year."
As for the conditions in Jamaica, Strachan said they are still under curfew from 10pm until 5am, but she basically only goes out to the grocery store and to train.
"I want to make my dream a reality to earn enough money so that I can invest in the things that I want to do outside of track and field," Strachan said. "Personally, doing track and field for so long, I don't think I can sit behind a desk and answer to a boss from 9-5.
"I don't have that type of personality because my personality ticks people off and people tick me off. So I want to be able to open up my own non-profit stuff to give back and to open up a computer store because I have a fascination with technology."
Once she's ready to retire and look at life afterwards, Strachan said she would like to venture into her business in the Bahamas and make a contribution to the local economy.
To the Bahamian public, especially those who are feeling the effects of COVID-19, Strachan advised them to "formulate a plan and try to keep it relevant.
"I know being locked down is hard and it can irritate you, but just devise a plan for after COVID-19.
"There is going to be life after the pandemic and so you shouldn't be sitting down without a plan. While you are at home, shoot your plan and look at ways that you can make it happen. Once you do that, you will be in a better frame of mind to deal with the lock down."
And for Strachan, once the complete lockdown is over, she intends to go full force with regaining her prominence as one of the Bahamian top sprinters who made it through the training sessions in Jamaica.