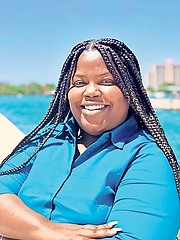 By ALESHA CADET
Tribune Features Reporter
acadet@tribunemedia.net
If you take a moment to look around you right now, you will probably find a world in chaos, contending with an uncertain future. And it's no different here in the Bahamas. The global outbreak of coronavirus and its aftermath have left many Bahamians without jobs, and worse, without hope. A feeling of optimism is hard to come by.
But Jaleal Wright-Bowles is here to help. The 26-year-old who went from fry cook to entrepreneur has started a new brand focused on helping her fellow Bahamians find employment and hope again. Aptly named The Optimistic Bahamian (TOB), the platform started out as a job search function on Facebook called "I Need a Job Dred".
"It then evolved into a place which shared and educated Bahamians on grant and education opportunities in the Bahamas. As the business grew, I was known as the girl that knew all the opportunities in the Bahamas; the girl who can turn your doubt into belief with one article, and found a way out when you were faced with difficulties in your professional life," she told Tribune Woman.
"This brand is simply about encouraging Bahamians to take their current (position in life) to the next level, but with balance and purpose. Some consultant agencies focus on pushing their clients to the next level, but TOB focuses on encouraging their clients to not only build ladders, but to build skyscrapers, creating a foundation of success where every step of the process creates a successor with substance."
Jaleal, who describes herself as a "social entrepreneur", said she wants her brand to promote "holistic professionalism". This means focusing on the whole person's development; mind, body and soul.
There are many complaints from consumers about Bahamian professional culture, she said; complaints concerning customer service, employee and employer relationships, personal development and the pride (or lack thereof) people take in their work. She said her goal is help Bahamians hold themselves accountable for their personal development and achievements through offering customised personal consultations that suit their mindset, gifts, passion and goals.
"I believe that the source of manifesting anything into reality starts with self-management and mindfulness...Once I shifted my mindset it then forced me to want to improve and perform at 100 per cent in every area of my life: from my physical health, socialising, hobbies, personal development to spiritual structure.
With her new mindset, Jaleal from being a fry cook to eventually becoming a full-time administrative manager at the ORG Bahamas Foundation and a business owner.
"Everything in life is a circle and has a connection, but we must first address the power generation of that circle, which is... mindfulness," she said.
Jaleal also recently launched a YouTube channel called "What's Good Bahamas!" where she highlights opportunities available in the country; opportunities such as free seminars, meetings, workshops, and more. Via the YouTube platform, she also offers motivational videos, insight into small budget marketing and professional profiling. The Optimistic Bahamian also has weekly job postings, free resume building instructions and job leads, as well as administrative assistance for "mom and pop" shops.
Operating a brand like TOB was not something Jaleal had originally planned for. Her first career venture was in the culinary industry. But after all the slicing and dicing in the kitchen, she somehow always found her way into the administration offices to help with marketing, advertisement, and to be the bridge between employee and employer, and encourage employers during difficult times.
"One day I decided to become my own client and began my journey as a holistic professional, where I not only focused on the problems in my professional lifestyle but addressed areas that affected my overall performance and mindfulness as an individual. I figured if it worked for an underpaid fry cook such as myself, this regimen can work for anyone once customised to their personal needs and circumstances," she said.
"My field of work is basically a combination of my passion for serving others. I help create new, fix the old and bridge gaps between now and the future in the business world," she said.
"This platform not only combats the professional stigma placed on Bahamian workers and business owners, but it creates leaders and catalysts for change. Sometimes the job is as small as teaching someone to look at the glass as half full and changing the perspective...The pandemic has had a major effect on my clients mentally, but I was grateful to create something they can look forward to."
Jaleal is now looking forward to starting a new YouTube show called "60 Seconds with Greatness" in which she will showcase local, overlooked talent. She is also set to launch her first e-book this Fall 2020 as well as a holistic professional seminar for Summer.
"I am also hoping to launch an urban clothing brand for The Optimistic Bahamian which is to encourage the youth of the Bahamas to rock their nation with pride," she said.