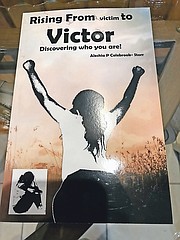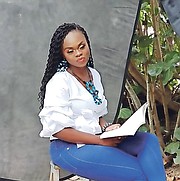 By JEFFARAH GIBSON
Tribune Features Writer
jgibson@tribunemedia.net
THE pain of finding out about a spouse's infidelity can be overwhelming, heartbreaking and even soul-destroying. Bahamian educator and author Aleshia Storr ran the gamut of negative emotions when she found out about her ex-husband's secret affair. But even in the face of this gross betrayal, Aleshia still hoped to save her three-year marriage and wanted a reformed husband.
However, no amount of crying, praying or fighting stopped the reality of separation and divorce that was looming. It was only when Aleshia accepted her marriage was really over that the healing process began and her broken heart started to mend.
Aleshia's story of overcoming infidelity and a failed marriage is chronicled in her new book, "Rising from Victim to Victor". She wants others in similar situations to know that they, too, can overcome heartbreak just as she did.
It was a year into her marriage that Aleshia found out her husband was having an extramarital affair. And like any wife, Aleshia's world came crashing down.
"I discovered my husband's infidelity through text messages with conversations he had with another woman for months. I felt betrayed, hurt and angry, all at the same time. I cried and called the one person I knew would give me sound advice," she told Tribune Woman.
At first, Aleshia kept the knowledge of finding about the affair from her husband.
"But of course he found out that I found out. Even then, although angry, I wanted to save my marriage," she said.
A vigorous fight to save the marriage began, but Aleshia soon found out she was the only one in the ring.
"Did he apologise? Yes, he did, but in my opinion sincerity was missing," she said.
And her ex-husband was also reluctant to enter marriage counselling.

"He refused," she said. "Upon joining Christ Community Church I fought for my marriage the best way any woman can fight, on my knees through constant prayer and fasting."
But it was all to no avail. After three years, and with no signs of change on his part, Aleshia's husband left her for good.
"He left our marital home to move to the island where the other woman resided. I struggled with walking away from my marriage because of the covenant I made before God," she said.
Though her ex-husband did not desire to save their marriage, Aleshia said she kept fighting for their union because she believed it was still worth it.
"Dealing with infidelity is never easy. Nonetheless, forgiving your partner is a must, not for them, but for you. That's where healing begins," she said.
As for women, or men, who learn of their partner's infidelity, she has this advice: "I encourage them to pray for their spouse and seek direction from God, who is so eagerly willing to give it. Surround yourself with positive people who will give you sound advice and pour into your life.
"I have learned from personal experience that both parties play a role when an affair takes place. Is that easy to digest? No, but it's true. I discovered that I wasn't as supportive as I needed to be to my husband towards his goals and dreams for the future. Although this did not excuse his irresponsible actions, I had to weigh in my contribution towards the problems in our marriage. Therefore, take an introspective look within yourself, take responsibility for your share in the problems in your marriage, and forgive yourself first and then your partner," she said.
Aleshia admitted that she initially struggled with moving on. She had been in a relationship with her former husband for almost a decade before they got married. And the idea of being alone again was an intimidating one. Ultimately, she found solace in her faith.
"My goal ultimately is not to focus on my current circumstances but to embrace my new identity as a child of God...I am learning and growing each day. Am I perfect? No, but I continue to serve a God who is. I no longer look at life through the circumstances or obstacles that I face or may face. I embrace every storm, battle and test, undergirded by the knowledge that life's journey will continue to build on my newly found identity. I live each day knowing that no matter what I face, God is with me and He will work something incredibly good out of it," she said.
"Do not by any means become victimised by your circumstances. A victor lives in you, which is Christ Jesus. You will overcome this and survive. There is nothing too big for God. Lay it all at His feet and watch Him work incredible good through it."
Aleshia's book is currently available on Amazon.