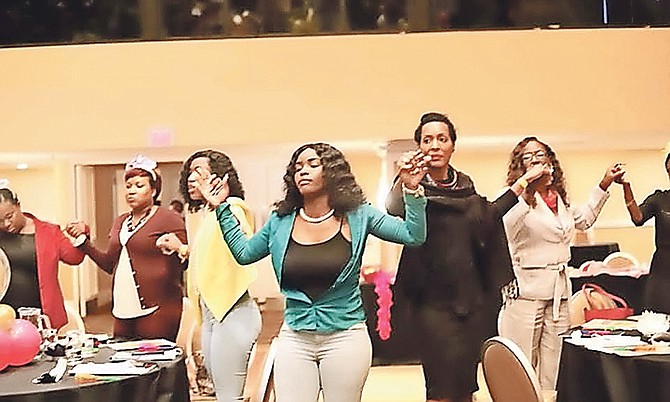 By ALESHA CADET
Tribune Features Reporter
acadet@tribunemedia.net
'The Power of Her' may have been postponed due to the coronavirus outbreak, but organisers promise the empowering event will go ahead as soon as possible to help women overcome challenges that prevent them from living their best lives.
The annual conference, founded by Duquesa Dean, awards eight women who are the best in their fields. There is a Lifetime Legacy Award, the Rising Star Award, the Game Changer Award, the Business Leadership Excellence – Hospitality Award, the Business Leadership Excellence – Retail Award, and the Inspiration Award.
This year, honorees include: Elise White Roberts, Astra Armbrister Rolle JoBeth Coleby-Davis, Janet Bostwick, Cheryl Newell, Dr Cleopatra Williams, and Michele Thompson.
When asked about how she felt about being honoured, Mrs White Roberts said: "I was surprised. I hadn't previously heard about the organisation, and so I went and did my research. I was pretty impressed when I looked at the past videos. I found it to be very encouraging and I thought that this is something very positive and I am honoured to even be considered among these other women."
Ms Dean said she created The Power of Her to connect women with one another. Too often, she said, women go through life, struggling with challenges, believing they are alone in their particular situations, when in fact there are many others who have dealt with similar circumstances and can offer guidance.
"Women (at the conference) experience breakthroughs that help them to overcome self-limiting beliefs, create visions for their lives, overcome emotional or mental challenges, embark on a journey of continuous self-development, and so much more. This conference is for the woman who are sick and tired of doing the same things and expecting different results; who are tired of being passed over for promotions; who want to elevate themselves and be the best in their careers; who would like to discover their purpose and passion, and those who like to create healthy and lasting relationships," said Ms Dean.
She said she feels an immense pride to see how far the Power of Her has come over the years and what an impact the conference has had on Bahamian women.
"Because we have so many women who attend the conference annually, we want to be sure they receive new and valuable content each year. The friendships that also develop at these conferences also prove that women can create relationships that are mutually beneficial and hold each other accountable. There are many women in our country who do amazing things. Ordinary women, through consistent actions, have reached pinnacles of success. Many of them are not recognised for the work that they do, and while recognition may not be sought out in exchange for what they do, these women, by just showing up every day and relentlessly fulfilling their purpose with passion, serve to inspire every other women to go after their dreams," she said.
When a new date for the conference is set, the speakers are expected to include Giavana Jones, Raquel Clarke, Simmone Bowe, Donavan Rolle, Antonia Lightbourne, Ghandi Thompson, Geoffrey Ingraham, and host Janelle Hutcheson. The VIP segment will be hosted by Carlisa Belle, and there will be live entertainment by Nicola Ngram.
"We look forward to hearing how women who attend the conference use the information to make changes in their lives and overcome their limitations to achieve their goals," said Ms Dean.
"We will honour all tickets sold on the new date which will be announced within the next few weeks. We will continue to promote our honorees and the work they do via our social media pages as well as hold Facebook or Zoom events to uplift, motivate and inspire others. We thank you for your understanding and encourage everyone to take measures to protect themselves and their families. You can look forward to a more powered-up conference in the near future."