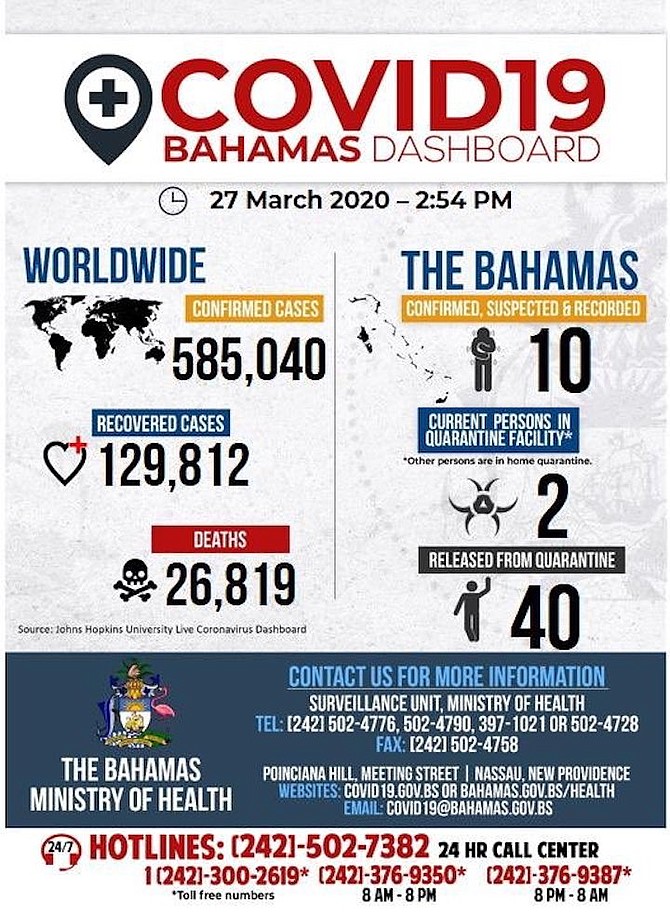 SATURDAY UPDATE: The latest on the coronavirus can be found HERE
UPDATE: The Ministry of Health last night confirmed that the latest case of coronavirus is in New Providence.
This tenth case is a 52-year-old woman who has a history of travel to the United States, but no links to the previous cases. She remains stable and is at home in isolation.
In a statement, the ministry said: "Health officials continue to follow the condition of the other nine COVID-19 positive cases. None of the cases are in hospital, and all are in stable condition.
"Members of the public are reminded to follow the Emergency Powers (COVID-19) Order announced by the Prime Minister, Dr Hubert Minnis, to reduce the spread of the virus, including physical distancing."
People are urged to stay at home, call your healthcare provider or the surveillance hotline if you are feeling ill and having fever and/or respiratory symptoms, frequently wash your hands thoroughly with soap and water, cover your mouth and nose with your inner elbow or with a tissue (and then discard it) when coughing or sneezing, and refrain from touching your face.
The ministry's hotline is 376-9350 (8am-8pm) and 376-9387 (8pm-8am), 502-7382 or toll free 1-242-300-2619. Updates can also be found online at www.covid19.gov.bs or the Bahamas Ministry of Health Facebook page. People can also email covid19@bahamas.gov.bs.
By FARRAH JOHNSON
fjohnson@tribunemedia.net
The Ministry of Health confirmed one new case of the novel coronavirus on Friday, bringing the total number of confirmed cases in the country to ten.
This latest case is in New Providence.
According to the latest Ministry of Health COVID-19 dashboard, two people are currently being held in a quarantine facility and 40 people have been released from quarantine.
The Ministry did not give specifics about the additional case.
In a press conference on Thursday, Health Minister Dr Duane Sands had revealed that four more people in New Providence had tested positive for the highly contagious disease.
The minister also said that one of the patients had a recent travel history and revealed that all four new cases are at home in isolation since they do not require hospital care at the moment.
During the press conference, Dr Sands also urged the public to take the necessary health precautions to deter the spread of the disease.
"COVID-19 remains a very serious threat. Around the world, more than 23,000 people have died from this virus. It is very important to address you today about prevention and it's important that you listen to and follow this advice," he said.
"Ignoring this advice could lead to you contracting the virus and getting sick and possibly dying. Ignoring this advice could lead to the spread of it to your families and friends and they could get sick and die.
"There is currently no vaccine to prevent COVID-19."
To date, there are 585,040 confirmed cases of COVID-19 worldwide with 129,812 recovered cases and 26,819 deaths.