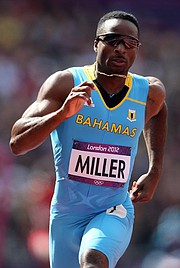 BAHAMIAN quarter-miler turned policeman Ramon Miller heads the list of persons who will be inducted into the Dickinson State University's Hall of Fame class for 2020.
Miller will be in the class of six athletes, several teams and two coaches from the past.
Miller, a gold medallist in the Olympics, and Nancy Nyongesa, a four-time volleyball all-American and participant in the Olympics, along with the first baseball teams, were to be inducted into the Hall of Fame.
"With this class, they are certainly some of the best teams and players in the history of this school," said Dickinson State athletic director Pete Stanton.
"In some cases, they are some of the best teams or players in the history of the NAIA, in both men's and women's athletics."
Miller won multiple national titles in 200 and 400 metre dashes while at Dickinson State in the late 2000s. He was also the NAIA's most outstanding track and field athlete in 2009.
His shining moment came though in the 2012 Olympics in London, England.
He anchored the Bahamas 4x400 team and brought home the gold for them.
Joining him on the team were Eleuthera's Chris 'Fireman' Brown and Grand Bahamians Michael Mathieu and Demetrius Pinder.
While he has not officially retired, Miller is now a member of the Royal Bahamas Police Force.
Since joining the force, he represented the Bahamas at the Law Enforcement Games in track and field a year ago.