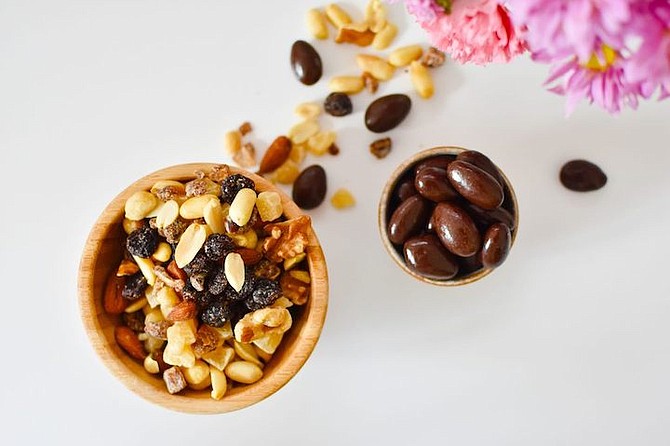 By ALESHA CADET
Tribune Features Reporter
acadet@tribunemedia.net
Are you worried you've gained weight during the pandemic? Well, you're not alone. Collette Thompson said one of most common statements she's heard during these past eight months is how people can't stop eating, mainly because they're home almost all of the time now and bored.
While she believes people can choose to do whatever they like in the comfort of their own homes, she also believes she can help improve on their boredom snacking habits.
Ms Thompson is looking to deliver healthy snack options right to your doorstep through her company called The Health Nut.
She lives by the motto "health is wealth" and strives to not only educate people about healthy choices, but also to empower them on their journey to a better version of themselves.
"My decision to rebrand and relaunch during the pandemic was not the easiest one, but so far it has been worth it. This has been a great test of my resilience, patience and ability to adapt in extreme circumstances for sure," said Ms Thompson.
She said The Health Nut was born out of her desire to help cultivate a healthier lifestyle in the Bahamas. Upon learning how certain diet choices impacted her life, she embarked on a journey where food became her medicine. And as Ms Thompson shared her story with the people around her, she noticed not only how many others shared similar struggles, but how willing they were to invest in what they eat.
"I decided to monetise this new lifestyle, not necessarily for the cash, but to give people who are as nuts about health as I am, access to products that are not commonly found on the shelves of our grocery stores. I like that (health and wellness) never gets boring. There is always something new to read up on and try so you do not get bored, and it's so easy to do so," said Ms Thompson.
At The Health Nut, Ms Thompson offers selections such as organic, vegan-friendly, raw or lightly salted almonds, cashews, and walnuts; dried mangos, coconut flakes, and cranberries; strawberry and apple fruit bars, and a fibre-rich trail mix.
"We have received positive and very receptive feedback. Bahamians enjoy reading the informative/engaging social media posts. We also have a blog on our website with interesting and informative posts. A customer was so excited when I delivered her favourite snacks, the dried mango and plantain chips, she started dancing and even made up her own mango love song. I wish I caught her on camera," said Ms Thompson.
Speaking of health benefits of certain products, Ms Thompson said generally nuts are filled with minerals and they are great for heart health. They're also rich in protein and fibre. Nuts like cashews and almonds, in particular, can be filling, which may lead to a suppression of your appetite.
"Because all of our products are organic, they're more soluble by your digestive tract. This promotes a healthy gut which is necessary for a healthy lifestyle long term," she said.
Ms Thompson has also adapted her business to the new normal by using the Health Nut to reach out to others.
"I engage anyone that reaches out via WhatsApp or social media to inquire about products and what I could possibly recommend for them to try. Hearing their stories - some funny, some not - and about their journeys keeps me encouraged. Going forward into the holiday season, it is my goal to encourage everyone to not only enjoy themselves, but to be healthy doing it. We will be offering exciting gift crates for the holiday season so I encourage everyone to stay tuned to our website and social media pages," said Ms Thompson.