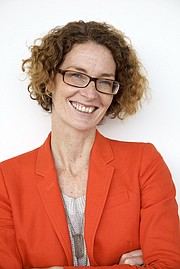 FOR ten years, Amanda Coulson has led the National Art Gallery of The Bahamas - meaning the announcement of her departure as executive director marks the end of an era.
Ms Coulson will step down effective from April 30 next year, having returned home to The Bahamas in 2011, after having forged a successful 20-year arts career in both Europe and America.
Under her tenure, the NAGB has grown considerably in both number of visitors and capacity, with expansions that include a 200-seat outdoor amphitheatre and a new art park and native plant garden.
She also initiated and oversaw numerous extensions beyond the walls, including a national mural programme and the Inter-Island Travelling Exhibition, which serves the Family Islands.
Ms Coulson said: "It was a dream to return to The Bahamas and to lead this important and dynamic institution. These years have been extremely rewarding and it was a privilege to forge the NAGB's path and contribute even a small portion to our nation building. I am extremely proud of the work that we have done, the cadres of young Bahamians that have been trained, the artists whose work we have shown — both at home and internationally — the students we have encouraged and the new audiences we have embraced. However, institutions thrive on fresh ideas and, as such, I believe it is of vital importance to allow new Bahamian leaders to emerge. With a decade at the helm, it is time to invite other voices to lead the NAGB in telling the Bahamian story and, in my personal journey, to find new ways to support Bahamian art."
NAGB chairman Lawrence Bascom said: "The work that Ms Coulson has done in helping the NAGB articulate its mission, vision and values will help to educate, uplift and inspire Bahamians for decades to come.
"We look forward to working closely with her in the months ahead as we identify and transition to a new executive director."