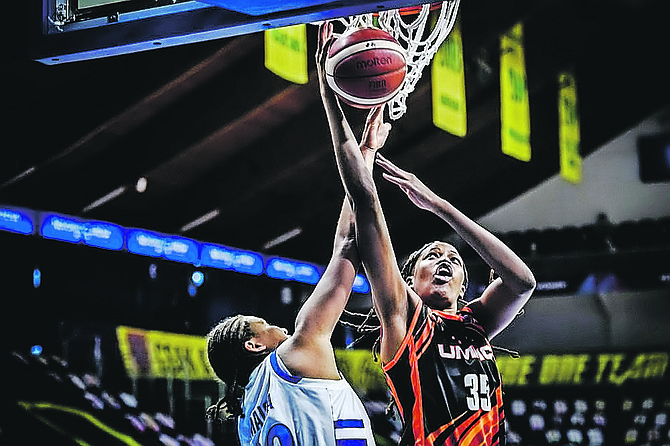 By RENALDO DORSETT
Tribune Sports Reporter
rdorsett@tribunemedia.net
Jonquel Jones and the UMMC Ekaterinburg Foxes claimed their sixth FIBA EuroLeague Women's title in club history.
Jones finished with nine points, 11 rebounds and two blocked shots in the Foxes' 78-68 win over Perfumerias Avenida in the Euroleague finale yesterday in Istanbul, Turkey. She shot 3-6 from the floor in just under 19 minutes.
UMMC concluded the season undefeated and has now run their EuroLeague win streak to 19 games. They have scored on average 91 points per game in that span and more than 100 points in four of those games. The Foxes led the EuroLeague in scoring this year at 88.6 points per game, followed Perfurmerias Avenida's 83 points per game.
UMMC finished the EuroLeague group stage at 6-0 in Group C. Through those six games, Jones averaged 14.5 points and 7.5 rebounds per game. She also shot 74 percent from the field and a league-leading 62 percent (8-13) on three-point field goals.
Jones opened EuroLeague play with 20 points, six rebounds on 8-10 shooting from the field in an 83-61 win over Beretta Familia Schio. She followed with a double double - 21 points and 13 rebounds - on 8-12 shooting from the field and 5-7 on three-point attempts in a 94-67 win over Spar Girona. She completed stage one with 19 points on 8-9 shooting (2-2 from three), nine rebounds and three blocked shots in a 104-71 win over TTTRiga.
In stage two, she had eight points and seven rebounds in a 74-58 win over Schio, and 19 points, six rebounds in a 90-83 win over Girona.
In the Quarterfinal series she had seven points and five rebounds in game one and a double double of 12 points and 12 rebounds in the finale of a two-game sweep over Dynamo Kursk.
In the Semifinals, Jones had six points, four rebounds and two steals in an 88-84 win over Fenerbahce Oznur Kablo.
UMMC's previous five EuroLeague titles came in 2003, 2013, 2016, 2018 and 2019. The 2020 edition was cancelled due to COVID-19.
Last season, Jones' first with the club, Ekaterinburg captured the EuroLeague title with a 91-67 win over Dynamo Kursk. She appeared in eight games averaging 19.6 points and 7.6 rebounds per game.
UMMC now shifts its attention to the Russian Premier League final where they will open a best-of-five championship series against Dynamo Kursk on April 23.