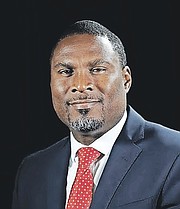 By BRENT STUBBS
Senior Sports Reporter
bstubbs@tribunemnedia.net
THE Bahamas Association of Athletic Associations will be sending a nine-member team to the World Under-20 Championships in Nairobi, Kenya, on Friday.
BAAA president Drumeco Archer said he expects that Team Bahamas' nine-member team, not eight as reported on Wednesday, will do very well at the championships.
"We have a relatively small team, owing to the fact that some of our top athletes had to return to college or were just getting started," he said. "If they didn't, we would have a bigger contingent of athletes.
"Nevertheless, we have a complement of some of the very best athletes, arguably some of the best athletes in the world. So I see no reason why we can't dominate or show up the biggest way at the World Championships."
Archer said it's unfortunate that not all of the bigger countries in the world will be participating in the championships, but he said it doesn't minimise the competition that is expected.
"I don't think it will hinder or diminish the rankings of the athletes at the championships," Archer said.
"We expect some great performances from Keyshawn Strachan in the men's javelin (with a national record toss of 72.13 metres this season) and Lacarthea Cooper in the women's 200m (with her season's best of 24.09 and 11.71 in the 100m).
Camille Rutherford, who made her debut for the Bahamas at the NACAC Under-18 to Under-23 Championships last month, will be returning from Houston to compete with Cooper in both the 100 and 200m where she has done times of 11.32 and 23.42 respectively. And her cousin Alexis Tilford-Rutherford will be making her debut when she competes in the women's long jump. She has posted a leap of 6.17m.
Camille and Alexis are the daughters of Chad and Frank Rutherford.
"I think it's an excellent opportunity for Team Bahamas and, at the end of the day, while COVID-19 is a major issue globally, we have a team of expertise who can manage the team in a bubble environment very well."
He noted Dr Alvery Hanna and COVID-19 protocol officer Laura Charlton will provide their experience to the team managed by Lakerah Charlton with Bernard Rolle as the head coach.
Other members of Team Bahamas are Carlos Brown in the men's 100 and 200 metres with season best performances of 10.39 and 21.16 respectively, Lamont Moss in the men's 200m (21.27), Wendell Miller in the men's 200 (20.61) and 400m (46.33), Antoine Andrews in the men's 110m hurdles (14.01), Camille Rutherford in the women's 100m (11.32) and 200m (23.42), Alexis Tilford-Rutherford in the women's long jump (6.17m) and Rhema Otabor in the women's javelin (54.19m).