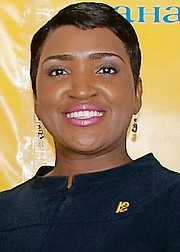 By BRENT STUBBS
Senior Sports Reporter
bstubbs@tribunemedia.net
WHILE she's proud holding the distinction of being the first Bahamian athlete to win both the Olympic and World Championship titles in the 400 metres, Tonique Williams said the performances from Team Bahamas at the Tokyo 2020 Olympics in Japan must be commended.
She was commending Steven Gardiner, who followed in her footsteps as the next Bahamian to achieve the double feat and Shaunae Miller-Uibo, who made history of her own as the first Bahamian to repeat as back-to-back champion in the women's 400m.
Now retired and just doing some personal training of adults, Williams said she was even more impressed with the fact that her protégé, Doneisha Anderson, ran the first leg of the women's 4 x 400m relay team, despite the fact that they didn't complete the race in the heats after Anthonique Strachan stopped running on the anchor leg.
"I don't see myself as setting the pace, even though I am the first Olympic gold medallist in the 400m," Williams said. "I don't want to block out the achievement of Avard Moncur at the World Championships.
"I say that because this has been a succession and we keep proving that the Bahamas has a strong hold when it comes to 400m runners. Definitely with Stevie and Shaunae, we are seeing why we continue to excel. And with the women's 4 x 4 competing, I think the future is brighter in terms of what we are going to be doing going forth in the 400m."
Moncur would claim the feat of being the first Bahamian to win a global title in the men's 400m at the 2001 World Championships in Edmonton, Canada.
Williams surpassed that by winning the first Olympic 400m gold in 2004 in Athens, Greece and came back the following year and clinched the world title in 2005 in Helsinki, Finland.At the Tokyo Olympics, delayed by a year because of the spread of the coronavirus pandemic in 2020, Gardiner joined Williams as the second Bahamian and first male to post the consecutive victories, adding to the World title he picked up in 2019 in Doha, Qatar.
Miller-Uibo, however, was the first Bahamian to repeat as Olympic champion as she successfully defended her title she won in 2016 in Rio de Janeiro, Brazil. "They've done well," Williams said.
"I think they showed the depth of the quarter-milers that we have produced here in the Bahamas. I think the fact that we got a women's 4 x 400m relay team qualified for the Olympics, speaks volumes."
Since acquiring Anderson at the age of 12 when she was attending AF Adderley Junior High School, Williams was able to help groom her into one of the top athletes, who transferred to St Augustine's College.
Anderson, now attending the University of Florida, got her breakthrough on the relay team that included collegians Megan Moss from the University of Kentucky and Brianne Bethel, a Grand Bahamian at the University of Houston.
"Doneisha has always exhibited the talent where you knew that she would go far," Williams said. "I think that she's had a pretty good junior career and now she's also showing signs of having a great college career.
"With this being her first Olympic appearance, I'm hoping that within three years, Doneisha can actually qualify for the Olympic 400m and be able to be in that final."
Having gone through what she described as a "challenging upbringing," Williams said Anderson will eventually have one of those great stories that the world will marvel at when she attains her level of success.
"In 2019 prior to the pandemic, Doneisha was showing signs of having a really stellar year in college," Williams said. "That was interrupted because of the pandemic. It was a little disappointing for us because we had hoped that she would have gone on to qualify for the individual 400m at the Olympics."
Having had to deal with surgery as well last year, Williams said it was good to see Anderson make it back to be able to compete on the relay team in Tokyo. But Williams said as Anderson will be older and stronger, she's confident that she will use the Olympic experience to propel her to where she needs to be.
"I'm hoping she will take all of this back and she will come back next year and have the season of her life," Williams projected.
Denied the opportunity to compete on a 4 x 4 relay team during her era, Williams said she made up for it in the individual 400m.
It's the reverse for Anderson, but Williams is predicting that it will turn around for the 20-year-old rising star. "Regardless of how they performed, I think this is a beginning," said Williams of the relay team. "For me, to have an athlete who helped that to happen, made me feel as if I made a contribution to what I wanted to take part in when I was a junior."
At the time, Williams ran on some relay teams with "Golden Girl" Debbie Ferguson-McKenzie, the late Vernetta Rolle and occasionally Ingrid Sears, a quartet that had so much talent as individuals and collectively as a team.
"We just never got to the Olympic level and we were able to put our best team together," she reflected. "Now to see that realised and to know that I had a hand in it, just warms my heart and I hope that the administration can continue this push to compete at this level. "It was heartbreaking not having a men's 4 x 4 out there or the mixed relay 4 x 4 team out. I really believe we could have medalled with a team consisting of Shaunae, Stevie, Doneisha and Alonzo (Russell) or Ramon (Miller)."
Like she's doing with Anderson, Williams said she will continue to stress the importance of the 400m runners taking their rightful places as members of Team Bahamas on the international scene, either in the individual events or as members of the relay team.