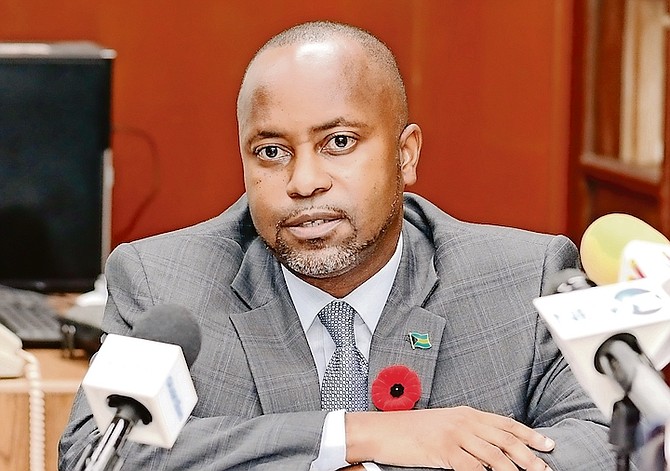 By KHRISNA RUSSELL
Tribune Chief Reporter
krussell@tribunemedia.net
EAST Grand Bahama MP Kwasi Thompson is adamant that the former Minnis administration's policies were working, pointing to increased revenues between July to September.
The former State Finance Minister said the Davis administration appeared to be ignoring the facts as it related to the country's improved fiscal period during the time period.
He was speaking during his contribution to the 2021/2022 supplementary budget debate in the House of Assembly yesterday.
"It cannot be right when everything wrong is the former government's fault, but those things that are positive this government seems quite pleased to brag about and, in some cases, quite pleased to take the credit for," Mr Thompson said.
"Many of the government's members spoke to the mismanagement of fiscal affairs, but here are the facts and they almost spoke to it like it was a script. You could almost anticipate during a part of their speech when they would speak to it, this mismanagement claim.
"The government's own fiscal snapshot, we introduced a practice in the Ministry of Finance. Something where every quarter the public would get a snapshot as to what was going on in the country and how were the country's fiscal affairs being managed.
"The last one that was produced by this government, but it spoke to what took place during the last three months of the former government.
"So, it speaks to what took place during the months of July to September and I just want to quote the first line of the executive summary of this report. 'The Bahamas' improved economic performance during the first quarter of financial year 2021/22 is reflective of the accelerated pace of recovery in the domestic economy. As COVID-19 vaccination and containment efforts improve both domestically and internationally.'
"It confirms that there was an improved economic performance during these last three months. In almost every area the revenue of the country increased despite the claim of mismanagement and tough economic times and bad decisions - that was made in almost every area the revenue of the country increased.
"In a budget debate where it seems like no one from the government even articulated that revenue actually increased during the last three months. The snapshot revealed 'the total revenue receipts for the first quarter (of) the financial year 2021/2022 increased by $271m or 90 percent to $572m when compared period over period."
He also noted that a reduction of the VAT rate from 12 percent to 10 percent would only provide a slight improvement in the real gross domestic product, unemployment and poverty levels.
However, he said the VAT reduction would cause a worsening of the current account, the fiscal deficit and debt to GDP ratio.
Still, if the priority is to benefit the economy even if only slightly, the reduction "should be pursued", he said. At the same time there must be compensation tax revenue initiatives to address the rise in deficit and GDP ratio, Mr Thompson added.