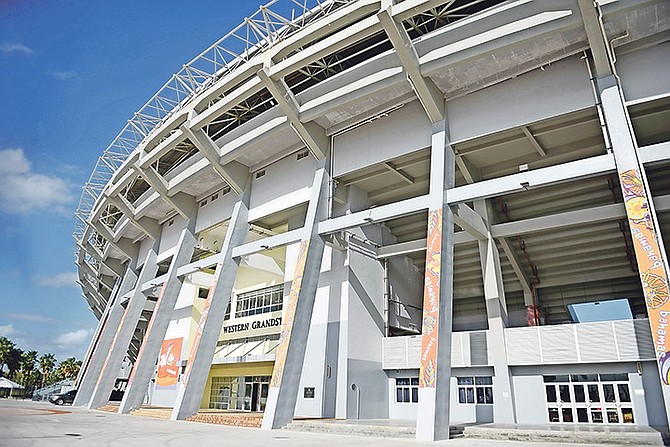 By RENALDO DORSETT
Tribune Sports Reporter
rdorsett@tribunemedia.net
Final practice sessions are in the books, and the return of the Bahamas Bowl is just hours away from kickoff as teams vie for the Prime Minister's Trophy.
The Toledo Rockets and Middle Tennessee State Blue Raiders will face off at noon on Friday at the Thomas A Robinson National Stadium.
In the final media availability prior to kickoff, Rockets head coach Jason Candle said he looks forward to his players taking advantage of the opportunity.
"It is a once in a lifetime experience for our players and many of the players will not have the opportunity to leave the country and what a great way to do it in an influential time of their life. An 18-22-year-old man can tell their people back home that they had a trip to The Bahamas to play football game is an eye-opening experience. Honoured to be here and excited to play that football game. Congratulations to coach Stock and his crew for having a great season that they were able to put together to be down here with us. We are looking forward to a great game on Friday."
Toledo (7-5 overall, 5-3 MAC) is in their fifth bowl game under Candle. The 2021 Bahamas Bowl will be the first bowl game for the Rockets since the 2018 Bahamas Bowl.
Rockets centre Bryce Harris one of the few holdovers from the team's first appearance at the Bahamas Bowl in 2018, said he looks forward to concluding his collegiate career with a bowl win.
"I think the difference in the team back then and this year is that we have each other's back more than I have ever seen. I think this is a true brotherhood. I have seen teams with a brotherhood like 2017 when we won our conference championship.
"Having that brotherhood mindset and truly having each other's back is different than saying family," Harris said.
Blue Raiders head coach Rick Stockstill said he hopes his defence can be the deciding factor.
"I am excited to be here. I am proud of our team with the fight that they put forth to get to a bowl game. Every team in the country starts out year after year with a goal of going to a bowl. Not every team makes it to one. We did so I am proud of these guys. Congratulations to Jason and Toledo for the season that they had but we are very excited to be here and looking forward to Friday afternoon," he said.
"Our defense has done a great job and our coaches have down a great job. We spend an enormous amount of time at each practice about the turnover emphasis. I talk about it constantly throughout the week and that it is the number one factor most of the times that determines who wins and who loses.
"Against a team like Toledo, when you get an opportunity, you cannot be a hand-clapper because they are special and good at protecting the ball. The opportunities are going to be limited. If we have an opportunity we have to capitalise on it."
Stockstill leads Middle Tennessee (6-6 overall, 4-4 Conference USA) in his 16th season (100-98) as a college head coach, to a bowl game for the ninth time in his career. The 2021 Bahamas Bowl will be the first bowl game for Middle Tennessee since the 2018 R&L Carriers New Orleans Bowl.
Blue Raiders wide receiver CJ Windham also looks to conclude his career with a win.
"This is my seventh year playing college football. It is about time that I do get out of here. It always hurts to leave. I soaked this whole experience in. Yesterday (Tuesday) was my last technical fully-padded practice and I went as hard as I possibly could. I am trying to exert as much good energy and leadership to this team than I possibly can before I leave. I know once I am gone, someone will have to step up and I have to keep leading by example. The only way to go out is to go out as hard as you possibly can, go hard for my teammates, coaches and go out with a bang."